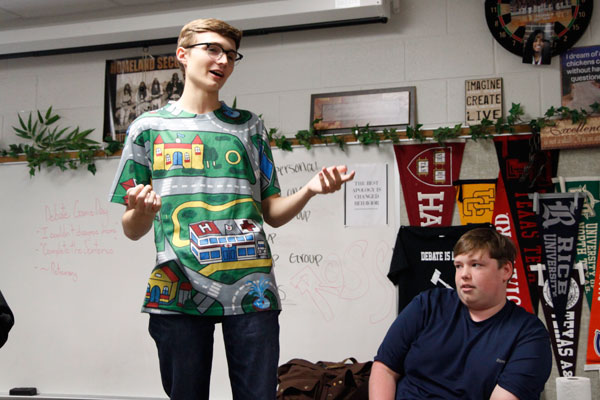 Dalton Mix
Three teams of two students each competed at Legacy on Saturday, Jan. 27 in the CX debate district tournament. Partners senior Ben Schnuck and sophomore Kaitlyn Pasierb won first place with an undefeated run, and will advance to the state meet in Austin.
"[I was] shocked and excited," Schnuck said. "I didn't realize how good we were compared to the rest of the district, and I couldn't be more proud."
Going into the opening round, tensions were high and the competition was stiff. Pasierb began the day with frayed nerves, and the worry of inexperience only compounded the stress. She leaned on her more experienced partner both as a support and a standard to strive for.
"I was stressed out. I hadn't slept the night before, so I was pretty nervous ," Pasierb said. "I love competing with Ben. In the round, I want to live up to the expectations, and I feel like he expects me to be on his same level."
Along with qualifying for the state tournament, Schnuck also earned top speaker from the district meet. They debated the topic of education in the United States. Their case focused on implementing UIL across all 50 states.
"This past year has been super successful," Schnuck said. "I did better [this year] than any other year."
Juniors Katlin Nguyen and Cintia Vera came close to qualifying, falling short in a split decision vote in semi-finals. They placed fourth overall. Freshman Michael Castronovo and sophomore Kylie Moretz placed fifth.
"UIL district was tough. Cintia and I were a bit saddened," Nguyen said. "However, this has only encouraged us to work harder and make state our senior year."
The following week, junior Natalie Pixler qualified as an alternate for the National Speech and Debate Association (NSDA) in Original Oratory at Lovejoy High School. The national tournament will be held in Fort Lauderdale in June.
"I could have done better," Pixler said. "I would have rather been already in nationals, but being an alternate is pretty cool. Hopefully next year I can actually make it."
The state meet will be held in Austin over the week of spring break. Schnuck considers his last year in high school debate, crowned by this week at the capital, as extremely positive.
"I hope I've influenced people to continue debating and loving to debate," Schnuck said. "I love the team and tried to direct and guide the next generation of debaters."