Cheer Holds Tryouts for Lost Mascot
Cheer and Mascot tryouts will take place on March 29 at 4:30 p.m. in the varsity gym. A mandatory tryout clinic will take place on March 25-27 from 4:45-6:30 p.m. Varsity cheer coach Jessica Watson, the cheer coaches and 4 judges will select one student as Bucky the Mascot along with a team of cheerleaders.
Last year, Bucky did not participate at the NCA camp for mascots and cheerleaders, and the cheer team was forced to complete their season without a mascot. Sophomore Shelby Smith missed the bond she develops while helping the mascot candidates.
"At camp it was kind of upsetting because years past we have won awards for having the best mascot," Smith said. "This year we didn't even qualify to be in them."
Senior Jasmine Munoz attended every football game this year and last year. Munoz aided in hyping the crowd without the presence of the mascot.
"It didn't affect the spirit of the crowd at all," Munoz said. "I'm hoping someone will be able to take the Bucky position and get the crowd pumped up for the game."
Mascots are required to attend the NCA camp and learn the mascot curriculum. According to Watson, mascots should exemplify at all times behavior suitable to their position.
"Mascots are first and foremost ambassadors of the school," Watson said. "Bucky is entrusted with the school spirit and must constantly attempt to build it among the students and fans."
Hang on for a minute...we're trying to find some more stories you might like.
About the Writer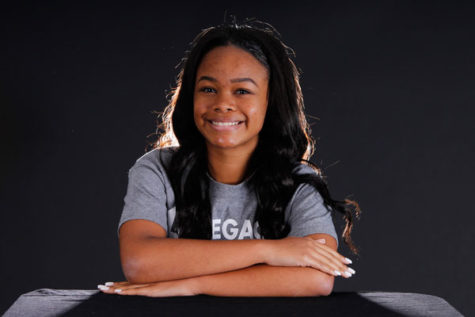 Jada Gantt, Staff Writer
Hello, I'm Jada Gantt ! I'm a Sophomore that loves singing , dancing , and pretty much anything JROTC related. I'm also a twin, but I'm one of...