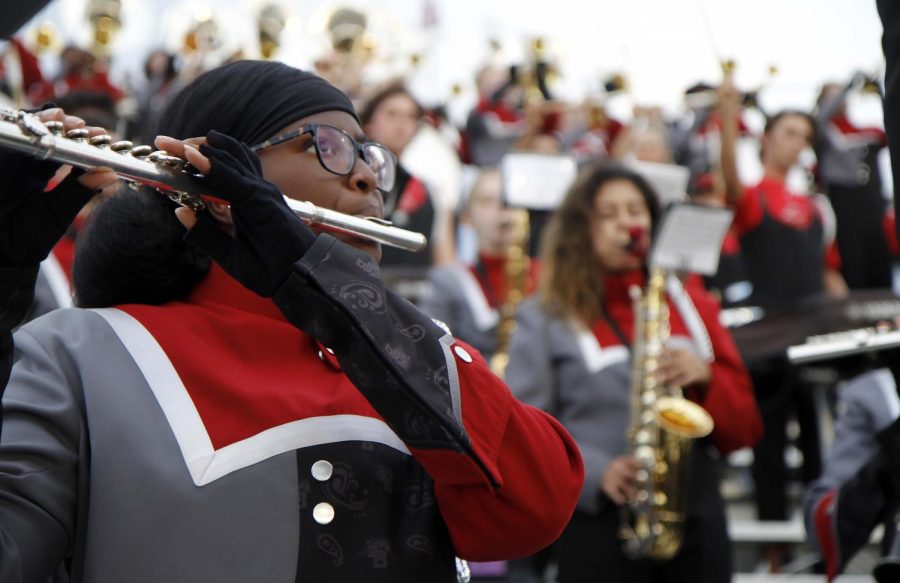 Maija Miller
The band finished its competitive marching season on Oct. 23 at the Area marching contest. They placed 10th out of 22 competitors and is the second time in a row in which they have advanced to Area finals.
This finish is the best the program has placed throughout a season since 2013. They have had top ten finishes at all four of the competitions they have attended, three of which the program placed second. They additionally won awards for best music and percussion. The band however previously placed ninth at Area finals in 2019. Head Band Director Andrew Nance owes the success of the season to the students.
"[The success] has to come from the student leadership and senior leadership in the program. They experienced a little bit of what that was like in 2019 when we were able to make Area finals and we were placing pretty high that year as well in comparison to previous years," Nance said. "But knowing the work ethic it took, the amount of strength throughout the season, the endurance everyone has to go through, I think a lot of it has to come from our students."
Out of the 22 bands that competed, the top four bands advanced to the UIL State marching competition in San Antonio. Senior and Brass Captain Emma Ely expected along with others a higher finish in the contest.
"I feel like it's been really successful even though we didn't end up where we wanted to be. We have had a much more successful season than in the past, so it was uplifting through the whole season and I'm happy with how it turned out," Ely said. "I feel like a lot of people expected [a state finish] with the results of our past competitions. But with us only competing against a few schools in the area throughout the season, we couldn't have known. But we definitely expected a higher finish."
The week leading up to the Area competition, organizations such as Student Council and Drill Team showed their support for the band with posters lining the hallway. The band boosters also decorated the band hall to boost morale.
"I feel the band has definitely united the school with the contributions of cheer, student council, choir and cheer. We have been able to bring the school together more than it has in the past and I can't wait for us to do it again," Ely said.
Despite the bittersweet finish, Nance remains optimistic for the future and sees the finish as a motivator for the program.
"The best thing to come out of Area is that we have improved throughout the season. We had overall our best run at finals so we have gotten progressively better. It just comes down to that if you are trying to beat yourself, then you have no reason or room to hang your head," Nance said. "If you are consistently getting better every time you go perform, that's an achievement in itself. So even if the results didn't show that we still got better and that propels us to keep doing better in the future so we can have a tradition for a dynasty at Legacy, which is ultimately what I am trying to make."