Football Team Loses Momentum After Crucial Loss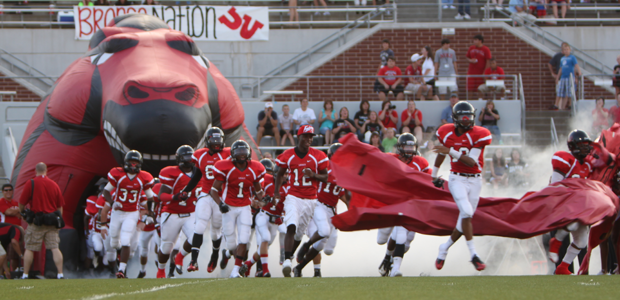 Nick Gross and Madison Mondon, Sports Editor and Staff Writer
October 18, 2011|165 Views
Within the first four football games of the season, the team ran into a winless streak. The Broncos scored for a total of 82 points in their first four games, while the total for their opponents was 219.
"After the first four games I was disappointed," senior Billy Manning said. "After each week no matter the score our team was motivated and ready to work for the next team. We didn't look behind, we just focused on our next opponents."
However, in the Bronco's last two games they scored for a total of 48 points, more than doubling the amount that they scored in their first four games. The average points for their opponents in the last two games was 17 points per game, meaning they only scored about 30 percent of what they had the previous four games.
"We worked on little things all week like winning the turnover battle and keeping our offense on the field," Manning said. "We cut out all the little mistakes and we won."
Some football fans say there are certain superstitions within football. One of these being momentum. Because the Broncos lost their first four games, and came back to beat their opponents by 15 points, people are saying the Broncos have momentum on their side. According to Dan Peterson, a writer for Scientific Blogging, sports momentum is where a team comes back from a deficit, or comes back from a losing streak. Basically, he says that momentum gives the entire team an unbeatable confidence.
"I think momentum affects a team drastically," junior Elijah Bell said, he has attended every football game this season. "Since the team won two straight, they might be able to do anything."
Friday, October 14, the Broncos played the Mansfield High School Tigers for the Broncos Homecoming game. In the past two years that the Broncos and the Tigers have been playing, the Broncos have won one and lost one. Many students believed this certain "momentum" would help the Broncos win against the undefeated Tigers. However, the momentum they had gained through the last two wins did not help them defeat the Tigers. When the final quarter ended, the scoreboard read 14-45 with the Broncos losing their fifth game this season. Currently, the Bronco's record stands at 2-5.
"After winning two tough and crucial games in a row we were ready for our homecoming game," Manning said. "We had been working very hard all week.  We were more prepared for this game than any other game."