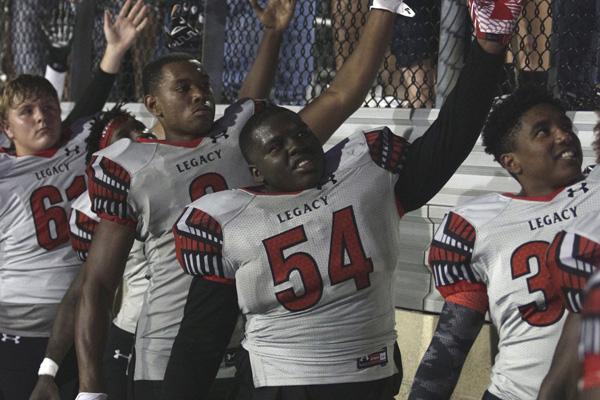 Ellie Brutsche
A three-pound disk floats through the air and lands in the grass with a thud. Last year, Sophomore Brayden Hodgest shocked the crowd by out-throwing his opponents and qualifying for the UIL Region 2 5A Regional Track Meet in discus as a freshman.
Hodgest moved from Martin High School in late October last year and has already made an impression on everyone with his great performances from throwing the shot and discus to playing football, and even in the weight room.
"My goal is to be a sophomore with rings in both football and track," Hodgest said.
Brayden started throwing at six years old. As a freshman, he set the high school record in discus with a throw of 157 feet. He also threw over 50 feet in the shotput making it into the area track meet.
"It was a mind-blowing experience for me," Hodgest said. "In a way, I doubted myself, but I knew I had the potential to do it."
When Hodgest first came, everyone noticed there was a significant gap between his strength and the strength of his teammates. He came in and blew the rest away with a max squat of 375 pounds, 65 more pounds than the next highest in his class.
"Workouts are hard, but I was just blessed with lots of natural strength," Hodgest said.
Football has also played a part of Hodgest's life. He now plays for the varsity team as a guard and defensive tackle, and he will fill holes wherever the team needs him. Moving in, no one in the football program had seen him play, but as soon as he got onto the field, he made heads turn.
"I love the competition and making contact," Hodgest said. "And I try to prove that physical attributes don't define talent."
Being the only person in his family with the ability to compete athletically, he plays for people other than himself. His dad has issues with his health, which keeps Hodgest going. He has high hopes and plans to work as hard as it takes to get to where he wants to be.  
"My dad motivates me because he goes through struggles to get me the things I need," Hodgest said. "And now he's the reason that pushes me to go the extra mile."