Ty Bentley: Following Through
Sophomore Ty Bentley gets down low and places one hand in the turf, ready for the whistle to blow. As the play starts Ty searches for the ball and finds it just as it meets the hands of Centennial's wide receiver. Ty advances on him and makes the tackle. While the play ends, Ty helps Centennial's wide receiver back up as they laugh. Once teammates, they now see each other as opponents.
Ty transferred to Legacy from Burleson Centennial after his dad, Coach Russell Bentley, became a new teacher and football coach here. Though his older sister and two younger sisters decided to continue at Burleson ISD, Ty chose to come to Legacy with his dad.
"I decided that I was going to go wherever my dad went and be with him," Ty said. "No matter what the distance. Being able to be with my dad wherever he goes is an amazing feeling."
Ty said that he does not regret his decision to follow his dad at all, and he knew he wouldn't from his very first day here. He said that at his previous school social groups seemed more secluded and he had a harder time making friends than here.
"I love it here at Legacy," Ty said. "No matter who you are, everyone accepts you and everyone wants to be your friend, and I absolutely love that."
Ty serves as a center, long snapper and defensive lineman for the JV football team. He said that Legacy's close-knit atmosphere and having his dad around has helped him adjust to adjusting to a new environment.
"It's the family aspect that's helping me," Ty said. "A lot of the kids, they understand."
He started playing football at the age of five, though he said that he didn't really fall in love with it until middle school. His older brother and his mom have inspired him to continue to play. His older brother played football for their dad as well and because of illness his mother only went to one of his games last year.
"I keep on playing because I know that someday she'll be able to come to more than one of my games and hopefully it's a really good game," Ty said. "Since my brother left for college I'm going to stick with football, because that's what he did. I love my brother."
Ty has seemingly already become known for his friendly, kind nature, but he gives all the credit to his faith. Ty said he got saved at the age of six and has worked on spreading his kindness since.
"I want people to see the Lord in me with the way I act and with the way I treat others," Ty said. "I try to pick people up. I'm not trying to tear people down or make them feel bad about themselves."
Hang on for a minute...we're trying to find some more stories you might like.
About the Writer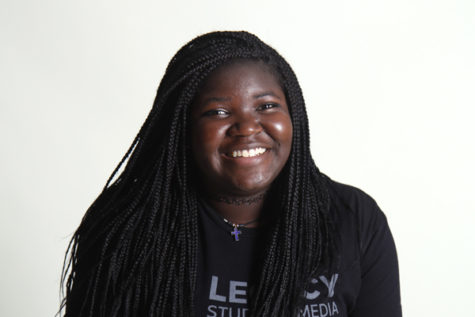 Kendra Washington, Sports Editor
My name is Kendra Washington. I am a senior with a love for Jesus, writing, singing, football and people. I'm the Sports Editor for TheRiderOnline.com...