Eli Riley: Adjusting to Change
Hang on for a minute...we're trying to find some more stories you might like.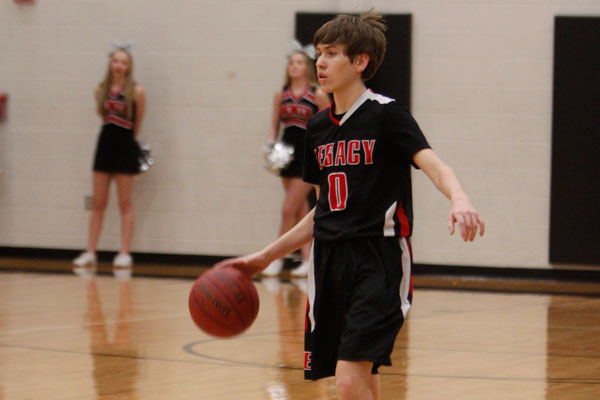 Freshmen Eli Riley takes in the unfamiliar atmosphere. He makes his way to the only part of the school that he knows well, the athletic hallways. He takes a deep breath before opening the door. A sea of unfamiliar faces turn and look at Riley as he takes a seat in the back of the room. Most of the athletes in this room know each other and have played together before, so Riley feels a bit like a cat at a dog park. A boy comes up to introduce himself and Riley feels himself calm slightly.
"I was a little bit nervous you know 'cause I didn't know anybody [since] I was coming from a school out of the district," Riley said. "It was cool just to see that there's nice people out there. Once I got to know [one person] like my nerves just kinda calmed down a little bit and I was just one of the boys."
Riley plays as a shooting guard and point guard for Legacy's freshman A team. Riley has played on a public school team, for the first time this season. Although, Riley did play in a competitive out-of-school league and on the basketball team at his private school. Riley said he believes that high school basketball helps him prepare for that as well.
"Now that I'm in public school and high school, it's a lot more competitive and the practices are harder," Riley said. "The league that I play in is the league everybody wants to be in so it's competitive, but I feel like high school is helping me be prepared for that."
Prior to coming to Legacy, Riley attended Holy Cross Christian Academy. Riley's dad works as a science teacher at Holy Cross, so not only is this his first year in public school, Riley does not get to attend a school with his dad this year. Although, Riley said that the transfer to Legacy has helped him grow as an athlete.
"When I was younger, I didn't realize things that I realize now, like some people can only dribble with one hand so I know how to defend them better and stuff like that," Riley said. "Now I notice more things about the game that makes it easier for me to play."
Riley has been playing basketball since his was five years old after he grew up in a sports-loving household.
"Ever since I started playing [basketball] I just loved it so much that I just keep on going," Riley said.
This year also serves as the first year that he has not been learning and playing in a Christian-based atmosphere. Riley believes this change has inspired him to be more of a leader.
 "It's hard to be a leader on the team. I try my hardest. I try not to get frustrated easily because that would ruin my witness that I have to the boys there so I just try to keep my cool the whole game," Riley said. "Even if a call doesn't go my way or if I make a mistake or one of my teammates make a mistake, I just try to keep my cool and just not let anything get away from me."
You can watch Riley and the rest of freshmen A team at Red Oak on Jan. 19. The match will begin at 5 p.m.
"[My goal] is to get better and to hopefully be good enough to make varsity next year," Riley said. "[I want us] to just win games and be the best that we can be."