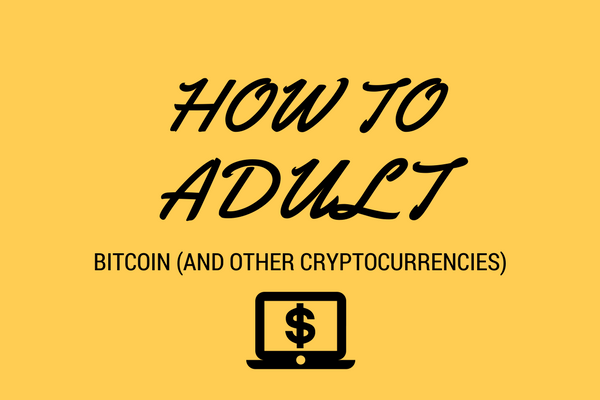 How to Adult: Bitcoin (And Other Cryptocurrencies)
(TheRiderOnline.com does not endorse any of the mentioned cryptocurrencies, nor do we suggest you invest in any. Cryptocurrency is still in its infancy, and is very unpredictable. Make your best judgement before investing.)
It's the sensation that's made every internet-dwelling millennial feel like mini wolves of Wall Street. It's (sorta) easy to get, fun to watch and wildly unpredictable. It's Bitcoin. Well, it's cryptocurrency in general, but if you're coming to this list without knowing what any of this stuff is, it'll be easier to just say Bitcoin. Here are some frequently asked questions regarding Bitcoin, answered with impeccable and perfect detail:
WHERE DOES BITCOIN COME FROM?
I have no clue. Actually, it comes from a form of mining, which is done by a lot of computer processing (in fact, Bitcoin mining is causing a negative ripple effect in buying computer parts). More Bitcoin is acquired from these computers by a process called 'hashing', when the system has to solve really, really hard math problems to add on to a chain of other hard math problems. It's almost completely random if the problem is solved, but if it is, the system earns a small or substantial amount of Bitcoin. The bigger and badder the computer rig, the better chances you have of earning Bitcoin. Obviously mining is for the most hardcore, and it's darn near impossible to start doing in 2018 (if you really wanted to mine, you would have started around 2011 or 2012).
WHO INVENTED BITCOIN?
There's a long list of people who could possibly be Bitcoin's founder, who goes under the alias 'Satoshi Nakamoto'. It's speculated that the mysterious Nakamoto could have around a million coins, which, as of January 30, 2018, is worth $10,513,375,000. A lot of dollars.
WHAT CAN YOU BUY WITH IT?
There are plenty of vendors that accept Bitcoin, and as the popularity of the currency increases, so does the list of companies accepting them. Owner Mark Cuban has already announced the Dallas Mavericks will start accepting cryptocurrency in the 2018-19 season. A common misconception is that cryptocurrency is only used to buy illegal narcotics, firearms and hired-assassins on the deep web. While they certainly are, Bitcoin is starting to find a more everyday practical use.
ARE THERE OTHER TYPES OF BITCOIN?
The main rival of Bitcoin is Ethereum, but there are hundreds of alternatives including Litecoin, Dogecoin, Ripple and the aforementioned Garlicoin. All of these cryptocurrencies have their own economies and will find ways to rise and fall throughout the year.
DIDN'T SOMETHING HAPPEN WITH 50 CENT AND BITCOIN?
Yeah. Just recently, 50 Cent sold his 2014 album "Animal Ambition" for 700 bitcoin, which, in 2014, was only worth around $463,000. He completely forgot about this Bitcoin collection he had amassed until this year, where his 700 Bitcoin are now worth around $7 million. If Fiddy can accidentally make millions off of cryptocurrency, imagine what YOU could do?
ARE THERE BITCOIN BANKS?
Bitcoin is a decentralized currency, which is a fancy way of saying there's no such thing as banks, and if you own a bitcoin, you own it.
OKAY WISE GUY, CAN I START MY OWN CRYPTOCURRENCY?
Uhhhhhhhhhhhhhh. I mean….. Yeah? Technically you can? There's a man on Reddit starting a cryptocurrency, Garlicoin, based around the buying and selling of garlic bread. In my mind, anything's possible after that.
SHOULD I INVEST?
It's hard to say whether you should invest in cryptocurrency. Bitcoin has soared to insane heights only with catastrophic crashes to follow. If you're the type who likes to invest in stocks and watch how the rest unfolds (aka: a nerd), then it might be worth throwing in a few bucks. It could end up being a typical "bubble" with a devastating ending coming sooner rather than later, or it could find its footing and become one of the world's leading currencies. Do your research, budget yourself, maybe roll the dice and become the king of crypto (that probably won't happen).
WHERE DO YOU BUY IT?
One of the most common websites used is Coinbase, which can easily transfer your local currency to Bitcoin, Litecoin or Ethereum. It also has an app on iPhone and Android, which means you can watch your money grow (or evaporate) on-the-go! If you don't want to use Coinbase, there are plenty of alternative websites like blockchain.info or Exodus.
IS THE "BITCOIN ECONOMY" STABLE?
No, not really.