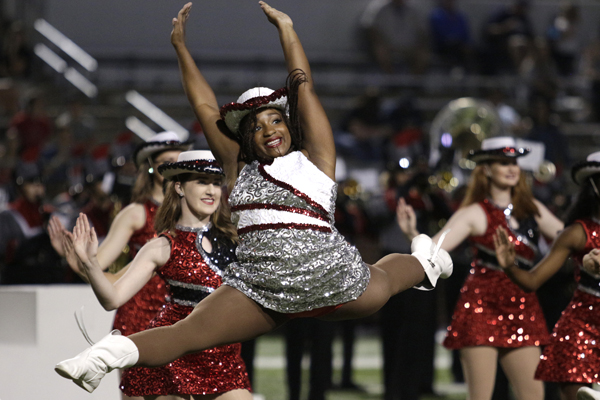 Ellen Brutsché
Glitter flashes as the light shine down on the girls as they march onto the field. Each girl wears a smile on their red-painted lips as their perfectly done hair whips around their faces. Junior Eboni Kinnel stands up front with the other officers in her silver uniform that separates her from the rest, ready to begin their routine.
"Seeing how we're all different people but can still dance as one is just amazing to me," Kinnel said. "It just shows the work we all put forward to perform as a team."
Girls on drill do not just dance. Kinnel, who was a first-time officer on the varsity team, is involved in StuCo, Key Club, works a job and has a passion for theater and French. This year because of drill team, she has not had time to join any theater productions.
"I don't have time to be fully committed [to theater]," Kinnel said. "But musical theater is my favorite because it brings singing and dancing together and that's perfect for me."
Kinnel was the only junior officer on the team. When it came to officer tryouts for the 2018-19 year, her determination paid off. She stayed after school almost every day to practice for the tryout and practiced her interview in front of her parents.
"I observe more than I do," Kinnel said. "Being the only junior lieutenant means that I have to pay attention and learn more from the senior lieutenants, so I can bring my experience to the team next year."