Blog: Coachella 2019
My best friend and I planned this trip at the beginning of 2018 and began to work and save money to afford the trip (as I am a high school student who can't casually drop $430 on a music festival on a whim).
Day 1:
Our flight left for LAX at 6 am on Friday morning and we arrived in California at 7 am (yay time change). After a two hour drive to Indio California, we arrived at our condo. The view out of our backyard amazed me. The pond, flowers and the beauty of it almost made me want to stay at the condo all day. Almost. I took an hour to get ready, fix my hair, and apply makeup and glitter. You can't go to a music festival in California without at least a little glitter. With slight difficulty in finding how to get into the festival and multiple U-turns, we made our way through security and the weekend officially began.
Yellow days:
I watched this band on accident as I waited for King Princess' set, but ended up really enjoying myself. My friend and I sat on the grass while others stood around us and just vibed to the music. Their monolithic, soft Indie music usually is not my taste, so I will not check out anymore of their music. 5/10 for the immediate entertainment they provided.
King Princess:
A goddess. I would marry her if I could listen to her sing all the time. Her set was 45 minutes of pure bliss. She had a large yellow couch set up in the background that her and her lead guitarist used to move around. Every song she played- a bop. Her crowd interaction made the experience one for the books. 10/10 for making me cry during "Talia."  
Kacey Musgraves:
I don't like country music, but Kacey Musgraves put on a great show. Her outfit was stunning and her stage presence gave the crowd everything they wanted.  
Anderson .Paak:
Another set I watched on accident and thoroughly enjoyed. The set began with the band playing with a trumpet and the crowd went crazy. His energy stayed up through the whole set and kept the crowd hyped. 8/10 for a great performance.
The 1975:
Highlight of my life. Front row, center stage and 15 feet from the stage. The immersive experience of this concert was one like no other. Nothing will ever top Matty Healy screaming along to I Like America and America Likes Me. Except maybe Matty Healy dancing shirtless on a treadmill to It's Not Living If It's Not With You. Honestly, Matty Healy sitting down on the stage doing nothing would be nothing short of iconic. The only thing that made this set less than perfect was at the beginning I had to yell at a guy who could not seem to not touch me every five seconds. Personal space was not his thing. 10/10 for the 5'8 mass of perfection named Matty Healy. 
Childish Gambino:
Stage presence? Amazing. Visuals? Unreal. Performance? Unmatched. Childish Gambino, the first headliner to perform, did not disappoint. Towards the beginning of the concert, Gambino asked for everyone to put away their phones and live in the moment. This was one of many philosophical messages he gave throughout the night. The crowd went crazy when he decided to let one fan take a selfie with him, picking out one older woman in the crowd. Gambino left nothing undesired and gave one of the best performances. 10/10 for a true artist.
Day 2:
We knew more of what to expect this day and how to get the best spots for the shows. We took time to look at the interactive art this day and look around at all the things the festival had to offer.
Wallows:
Everything that could go wrong did. A girl passed out. The lead singer, Dylan Minnett, broke his guitar strings. His extra guitar didn't work. And yet the band was still able to put on an amazing performance. During the trouble singer and guitarist Braden Lemasters played Are You Mine? By the Arctic Monkeys. The crowd sang and danced along the entire time. At the end of the set Lemasters threw guitar picks into the crowd and created a mob of fans jumping to get one. 9/10 for allowing me to interact with my inner fangirl because cute band guys. Also the sick performance.
Murda Beatz:
I am weary when it comes to live DJ's at a festival made up by  almost entirely live acts, but Murda Beatz kept the energy alive with special guests including Ty Dolla $ign and DMX. The crowd stayed hyped the whole set with each electrified song. 8/10 for the pure enjoyment of seeing very bad dancing and my participation in the very bad dancing.
Bazzi:
As somebody who loves Bazzi I was underwhelmed by his performance. First he came out 15 minutes late and had to skip his songs Honest and 3:15, my personal favorites. His stage presence was subpar at best and no real memorable visuals or moments.  6/10 for the unfulfilling performance and great sadness.
Juice Wrld:
Another set I had waited for excitedly since the announcement of the lineup. And another set that did not meet the standards I had set. Amazing visuals and energy the entire set, but his vocals made the performance less than exceptional. Juice Wrld mostly talked and screamed the lyrics instead of singing. Not what I had expected. The crowd created mosh pits during the cover of Take a step Back by Ski Mask the Slump God (I joined of course because I'm not lame). 8/10 for letting me embarrass myself in front of strangers with no consequences.
Billie Eilish:
Sadly, we had to stand towards the back of the crowd because Juice Wrld ended at the same time Billie Eilish began. Yet, the energy Billie Eilish gave off reached us. The visuals and effects were beyond amazing. Her stage presence was incredible. And at only 17 years old Eilish outshined some of the other acts who had years of experience on her. I do not regularly listen to her music, but her performance made me wish I did. 9/10 for converting me to a Billie stan.
Day 3:
By this time I wanted to pass out and sleep for 5 years. My feet hurt, sand made up 90% of my lungs and I never wanted to see the sun again. But I pulled myself out of bed and threw on a tank top and shorts for the Kanye West service. I made a rookie mistake and forgot to apply sunscreen, so of course the last day I had a sunburn. My adrenalin and hype rose back up when I began to get ready for the last day in my favorite outfit of the weekend.
Church of Kanye:
Just like a real church service everything felt just a little too long and painful. The service started late and started with an hour of soft gospel music and the choir walking in circles around the band. It was very close to looking like a cult. When Kanye and the choir finally did begin it was more enjoyable. They did a good job of hyping people up while keeping the focus on the resurrection of Jesus. Then the service lasted another hour and a half and got close to painful again. 8/10 for the experience but… never again.
Rico Nasty:
Hands down the best crowd experience of the whole weekend. As soon as Rico Nasty walked out the crowd began jumping and did not stop during the entire 45 minute performance (I have never been more tired in my life). The crowd somehow get even more hyped up when Rico brought out special guest Doja Cat for their song together, Tia Temera. Rico Nasty ended the set on a high note asking the crowd to make mosh pits for the last two songs (I joined these most pits too. Just have to make sure people think I'm cool). 10/10 for the most fun I had all weekend.
Zedd:
It was a strangely enjoyable experience. Even though he played overplayed radio music the whole time, the crowd still raved. Hearing the songs live made me hate them a little less. Only for the weekend though. Zedd brought out special guests Maren Morris and Alessia Cara to keep the energy up. 7/10 for somehow making EDM enjoyable. I never want to hear The Middle by Maren Morris ever again though.
Khalid:
I had heard before that Khalid put on bad shows, but I was pleasantly surprised by his performance. His visuals, like many of the other acts, looked amazing. His dancers did an incredible job. He kept the crowd entertained the entire time. At one point, he saw a girl dancing in the crowd and asked if they could being her backstage after the stage because she was "dope". Honestly, Khalid just seemed like a normal, cool guy during his set. 8/10 for him using the word dope in 2019. Precious.
Ariana Grande:
Amazing. Incredible. The whole performance left the crowd in awe. The perfect choreography, outfits and set design made the experience unforgettable. She had announced earlier that weekend that she would not bring out N'Sync again and left fans curious about who would replace them. The answer was none other than Justin Beiber. Iconic. After two years of not performing, he came out and "sang" "Sorry". He messed up and got caught lip syncing to a track in the middle of the song. Still amazing. Grande pretending to end her set with "No Tears Left To Cry" and having fans freak out and shouting "Thank U, Next" was honestly a power move. 10/10 for ending the festival with one of the best performances of the weekend.
The Food-
Unsurprisingly overpriced. Luckily because of dehydration, hunger never hit. We ate because we knew we had to therefore ate the cheapest things we could find, including pressed juice and pizza.
The Outfits-
From edgy to country to bohemian to rave, every different type of person was represented at the festival. Most outfits looked cute and fashionable if not a little uncomfortable. Some looked more… questionable. For instance, I saw a couple dressed in full Winnie the Pooh and Tiger costumes, a guy dressed as The Flash and a man in blue striped pajamas.
Miles walked-23.1
Men who touched me without any real reason- I lost count at 35. Please stop touching women's lower backs instead of saying excuse me.
Water drank- Not enough
Sand inhaled- Way too much
Weather- Turns out the desert is hot. Who knew.
Mosh pits joined- Three
Drugs offered to me- None, surprisingly. I did see a guy pull out a small bag of cocaine for his girlfriend to do a line off his arm though #truelove.
Final Weekend Rating: 9/10 I don't think l'll drop another $430 on a music festival anywhere in the near future, but I do not regret spending it this year. I have an incredible time that I will probably talk about for the rest of my life (sorry to the people forced to listen).  
Hang on for a minute...we're trying to find some more stories you might like.
About the Writer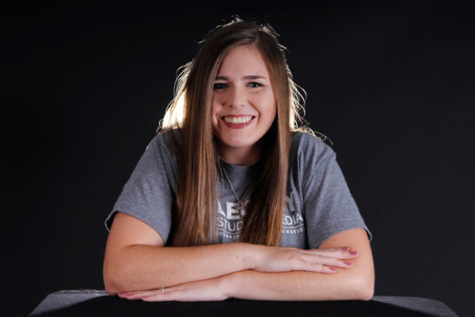 Jazmine Necessary, Editor-In-Chief
After romantic candlelit dinners and long walks on the beach, I enjoy writing for this website and making lame jokes.