Blog: Dancing For America's Team
When I received an invite to perform in the Dallas Cowboys Back to Football Halftime Show of the 2019 season opener against the New York Giants, I was so confused. I was exhilarated but in an "oh my gosh, me?" way. It's not every day that non-union dancers like me get the opportunity to perform for an NFL team in front of an audience of thousands, and Beyonce, allegedly.
I'm a part of a local hip hop dance crew called Bangerz Dance Co. run by Derrius "Bang" Harmon, who made this possible for all of us.
Jenny Durbin, the current director of the Dallas Cowboys Cheerleaders and Rhythm and Blue Squad invited a number of local crew directors, choreographers and individual dancers to perform in what she hoped would turn out as the biggest set so far. Our director, Bang, messaged the team chat after he received an invite from Durbin herself. As a team, we were excited about the opportunity and couldn't wait to begin rehearsals for the biggest performances of our careers so far. 
Initially, the invitation held descriptive and specific information for the performers regarding rehearsals and game day, and explained that all the dancers would be compensated in party passes to the opening game. Durbin later sent videos of the choreography and asked us to give it a try. 
At first, rehearsals felt grueling. Only half of us knew the choreography, and Durbin and her assistants were tasked with placing 250+ dancers who wouldn't stay in their spots. This took hours- rehearsal started at 7 p.m. and were supposed to conclude at 10 p.m., but we didn't end up leaving until at least 45 minutes later even though the majority of us had a long drive home and school to wake up for. 
In the beginning formation, placements were set based on the team you were representing, but for the finale, it was more about height and how well each of us knew the routine. We ran the choreography over and over until we all had a decent understanding of the steps, well enough to go home and practice before arriving at the next rehearsal. Most of us weren't accustomed to such an intense training and some struggled to keep up with the rapid pace of the first night. 
On the second day, we focused on cleaning the beginning and learning the transitions. This rehearsal ran a lot smoother because we all felt familiar with the routine, and most of us knew where to go in the formation. I familiarized my spot by learning the names and faces of the dancers surrounding me, including the section leaders who were Dallas Cowboys Rhythm and Blue Alumni. Our confidence in the routine grew as rehearsal went on. 
On Friday, we finally pieced things together. The Cheerleaders, Rhythm and Blue Squad, Rookies, drumline and the rest of us invites were finally able to see the finished project we'd worked so hard to complete. As we watched each other perform in the midst of transitions for the first time, we cheered on each group. Personally, this moment reminded me of how blessed I was to be a part of such a talented, loving community like the DFW hip hop dance scene. The next time we'd meet would be gameday. 
Ultimately, when we arrived gameday at 10 a.m., I realized how real everything was- security guards surrounded the premises, and tailgate tents were set up all around the stadium. As we walked onto the field, all of our phones harmoniously rose to film the mesmerizing gameday playgrounds, which today would serve as our performance stage. The scoreboards were lit, and the screen hovering center field repeated advertisements for the opening game. There were also security guards scattered throughout the stands, and a huge new turf painting of the NFL logo. 
We ran it a few times from start to finish and were finally able to see a polished, ending result as the cheerleaders, dance team, rookie squad and drumline were all in uniform, and the guest performers were all in Cowboy gear. After rehearsal, Alumni escorted us all to a holding room so the Veterans could practice the National Anthem, and players could prepare for the game.
At the end of the first quarter, the Alums escorted all the dancers to the field entrance where we waited for halftime to begin. I was more nervous to perform than ever before, but the feeling quickly faded when adrenaline took over as we headed onto the field. The lights were bright, and the stands appeared packed full of excited fans, and Beyonce, or so I've heard. I smiled big and danced big, bigger than I thought I possibly could.
 It was over in what felt like seconds, and as we left the field we could all officially add "danced for the NFL" to our resumes. But all jokes aside, it was an incredible opportunity to dance for "America's Team." I couldn't believe how big of a step I'd taken in my career as a dancer, and couldn't wait to book more unbelievable performances like this one. This experience taught me you're never too young to pursue your dreams, and hard work is always worth it in the end. 
Hang on for a minute...we're trying to find some more stories you might like.
About the Writer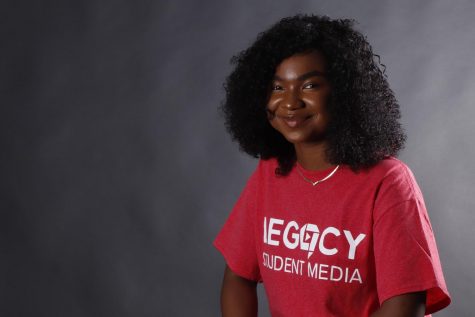 Keonna Burnett, Staff Writer
Keonna Burnett is now a Senior in high school who plans of attending UNT to study Communications/ Journalism, Social Media Marketing, and African American...