Closed Businesses Due to COVID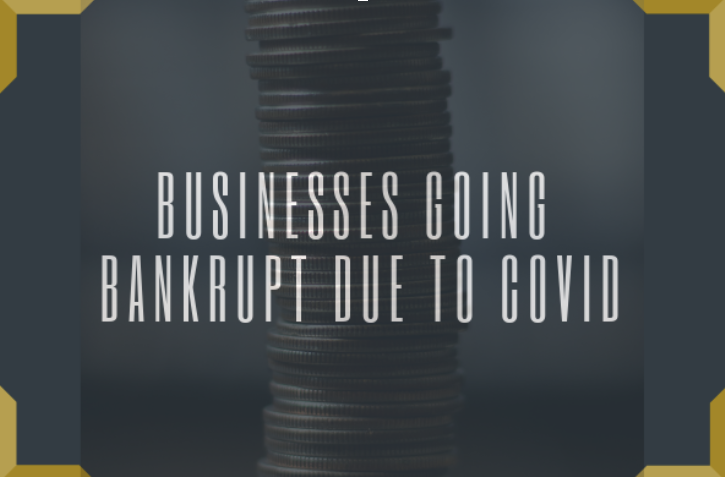 Many businesses were forced to file for bankruptcy over the course of 2020 because of the COVID-19 pandemic. The well-known retailers below have gone bankrupt as a result of lower sales rates and foot traffic putting these places out of business.
Chuck E Cheese
On Jun. 25,  CEC Entertainment filed for Chapter 11 bankruptcy protection after closures from the coronavirus pandemic dropping their business. However, on Mar. 29, CEC Entertainment adjusted earnings from $39 million to $43 million.
JCPenney
Before COVID-19, J.C. Penny already dealt with lower sale rates, debt, and less foot traffic in stores. But once the pandemic hit it caused retailers to close, forcing them to file for bankruptcy in May 2020. 
Pier 1 Imports
This home decor company had already filed for bankruptcy back in February but was still going through the process. It is now officially shut down. In Jan. 2020, Pier 1 said it planned to close up to 450 stores. But it then filed for Chapter 11 bankruptcy protection in February 2020. Forced to close over 500 stores and began liquidation sales in May.
Logan's Roadhouse
CraftWorks Holdings operates 10 full-service restaurants which include Logan's Roadhouse. Logan's Roadhouse filed for a Chapter 11 bankruptcy reorganization in Mar. 2020. Shortly after their stores shut down one by one across america.
24-hour fitness
Our well-liked gym has also experienced terrible effects from the pandemic, they do have a plan to reopen in the future, but for now, most gyms will be closed. Due to the COVID-19's impact on business. 24-hour fitness voluntarily filed for relief under Chapter 11 of the U.S. Bankruptcy Code in Mar. 2020. But now they have reopened locations with caution.
Hertz
On May 22, Hertz filed for bankruptcy after the combination of nearly $19 billion of debt, and some 700,000 idle rental cars in a global pandemic left its business, to rethink finances. The Herz Bankruptcy resulted in one of the largest bankruptcies to result from the pandemic.
New York and Company
Although very popular among women, most of their items consisted of very professional and casual clothing. Unfortunately the owners of New York and Company announced its bankruptcy on Jul. 13 due to the COVID-19 pandemic. 
Lucky Brand 
Founded in California, this denim company became really admired in the upcoming year but later forced to shut down in quarantine. They accumulated a large debt and became bankrupt, so they chose to close many stores.
True Religion 
This store filed for insolvency two times in the past three years. With 350 million dollars in debt they chose to shut all stores. 
GNC 
GNC, a dietary supplement and vitamin company, filed for bankruptcy due to the stay at home order, not able to make enough money.
https://www.cnn.com/2020/06/27/business/stores-closing-coronavirus-june/index.html