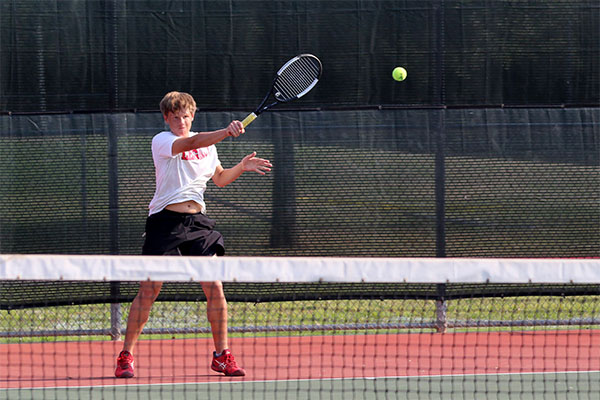 Landri Hargrove
After years of second-hand tips and encouragement from watched tennis practices, freshman Jantzen Redwine joins the athletes and his father, Coach Chad Redwine, on the Legacy Tennis team.
Jantzen plays a role as an athlete and the coach's son this year, and he notes his dad for the encouragement to pick up the sport. 
I would have never done it if it wasn't for him,[/pullquote]" Jantzen said. "He kind of pushed me to do it and then I just started liking it."
In June before his eighth grade year, Jantzen began to learn the basics of tennis. His dad introduced Jantzen to the sport and he enhanced his skills on the team the next school year.
"I started playing [tennis]" Jantzen said. "I was gonna try and just see how it goes. And then I really liked it."
Because Jantzen's father, Coach Redwine, coaches his team, he had more opportunities to learn the basics of tennis before the season started.
"I wouldn't have a stroke or anything, because he taught me that off the bat," Redwine said. "If he didn't play tennis at all, I would have probably just been bottom JV."
Coach Redwine coached tennis at Legacy for eight years. He allowed Jantzen to wait until he was ready to play tennis before he coached him as an athlete on his team.
"Fortunately, he asked for it. He always wants to be at the courts." Coach Redwine said. "He's internally driven, which is good and I think that's why he's come as far as he's come in a year."
Ever since he was introduced to tennis and began to play on the team, Jantzen has had hopes to go far in his tennis career.
"My goal is to go to college to play tennis," Jantzen said. "I want to get better. Every month, I get a lot better than where I was the last month and I should if I keep that up I'll be pretty good by the end of high school."