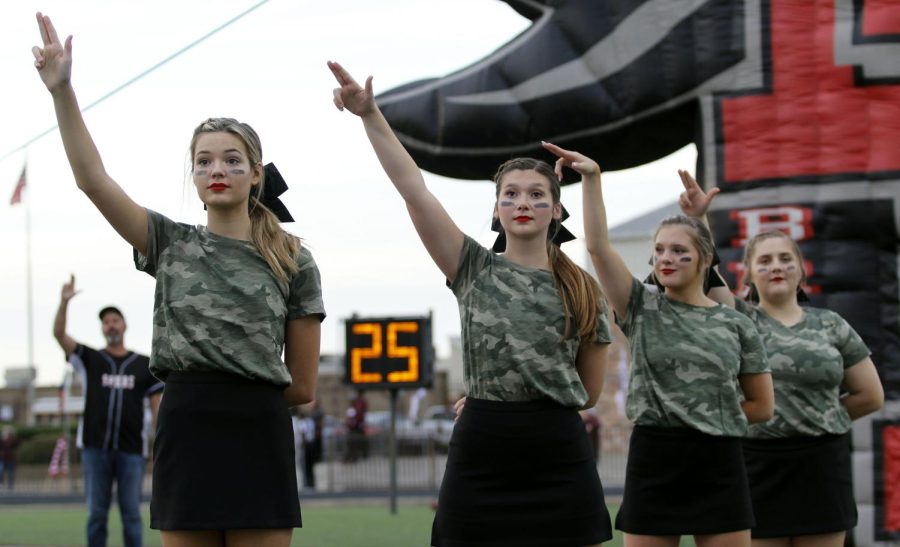 Face to face with the student section, freshman Kamdyn Eisenhuar leads the students in cheers during Friday night lights. Students praise Eisenhaur as she smiles big and shakes her pompoms together with the rest of the team. They finish the night strong performing stunts and flipping across the field.
"Football season was great. It was my first year and I thought it went great, it was enjoyable and a great learning experience," Eisenhuar said. "I love whenever we have spirit-themed football games. Seeing everyone in the stands dressed up and cheering with us is so fun."
Along with cheering at games, cheerleaders also participated this year in an online and UIL competition.  
"At our competition, we made so many great memories," Eisenhuar said. " We grew closer as a team and I got closer with the upperclassmen. We really bonded during every practice leading up to the competition."
Off the mats, the cheerleaders hosted fundraisers for their program. They raised money to compete in Florida by selling fan shirts and holding a car wash. Senior Landri Hargrove and her teammates listened to music and danced while they washed their friends' and families' cars.
"Washing the car off with water after cleaning the car cooled us off. Which was so nice since it was really hot outside," Hargrove said.
The cheerleaders cheer at a variety of school occasions. Other than cheering at games, cheerleaders plan and execute pep rallies, decorate hallways with banners and supported the sports team playing that week. Cheer is hosting clinics to prepare for tryouts at Timberview High School on March 25 and 26.
"A cheerleader's job is to be a leader,"  Eisenhuar said. "Cheerleaders promote and spread school pride throughout the year leading up to game day."