Five Tips for New Guitarists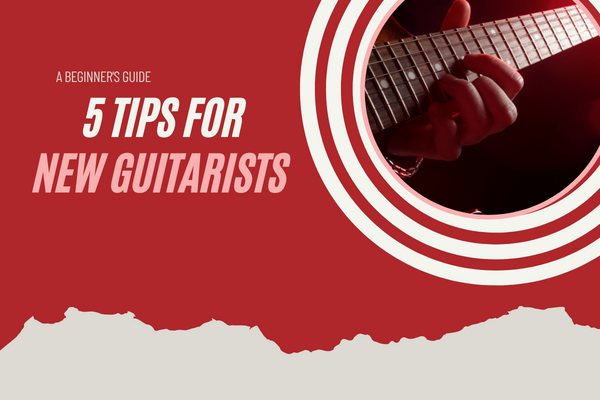 Flip your amp on (unless you prefer acoustic) and have your pick ready to get into the groove of whatever tunes are stuck in your head. If you have a passion for music or just want to try something new, grab a guitar and keep reading.
What You Need
Don't overspend, but don't get garbage either. Beginners may want to try a Squier Stratocaster, the famous and easy electric that usually provides reliable quality for around $200. They also should take a look at the Boss Katana Mini amplifier. It's great for at home costing only $100. However, if you want an acoustic, maybe try the Yamaha F335. Lastly, some .88 mm Dunlop Tortex picks never fail.
Safety
Prepare before diving into sessions. The aches can be agonizing, causing poor posture and critical damage to your joints, ligaments, tendons, plus muscles in your wrists, shoulders, back, hands, elbows, and so on. After consistent playing over time, you may even notice calluses building up on your fingertips. Get a routine before straining yourself.
Knowing Your Route
When you play a group of tones at once, that's a chord. Tabs tell you where to put your fingers, usually for singular notes at a time. Generally, someone new who wants to build their musicianship should start with chords. On the flip side, not all genres of music require chords. Try both when you start out since it can be hard to break bad habits of limiting yourself later.
Learning
Following up on building musicianship, something that people encourage is to try learning by ear first and searching it up after. There are many options for learning where to start in general. In-person or online lessons, free tutorial videos on the internet, and even books to guide you are just a few examples.
Progress
It's rewarding to hear and see your improvement over the months, so record yourself. Even if you struggle a ton, even looking back at where you started can motivate you by the time you reach a goal. Sometimes you don't always move as fast as you'd like, but that doesn't mean you'll feel stuck forever. Everyone has their own pace.