Bullying: Life as a Victim
Show Choir Performance Focuses on Dark Side of Bullying
Senior Tony Denson continuously tries with desperate helplessness to befriend a group of teens who verbally and physically abuse him in return. Denson sits in the choir room only acting as a character for show choir rehearsal. In some cases, this type of situation can be a reality.
Choir Director Josh Powell spent six months thinking of ideas for this season's show choir competition show. After hearing music on the radio, Mr. Powell decided he wanted to shine light on something meaningful like bullying for the show's theme.
"There's a whole lot of harassment and mental bullying," Mr. Powell said. "A lot of times kids don't even know that they're doing it."
Research shows 77 percent of students have been verbally or mentally bullied. One in five students admit they have bullied others. As part of that statistic, sophomore Cody Arnold dealt with bullying for being too skinny when he first moved to MISD. Because of this, he had a tough time making friends and adjusting to the new environment.
"It was one of those times where I wish I knew God, but I wasn't Christian at the time," Arnold said. "I was just depressed most of the time."
Studies show teens who bully and their victims are more likely to become depressed as an adult which can lead to low self esteem, anxiety and physical illness. Suicide is the leading cause of death of children under 14 years of age. Yale school of Medicine conducted a study that found a connection of 13 countries including the US between bullying, being a victim, and suicide in schools.
In the past, a group of girls falsely perceived sophomore Brittyn Sutton as a conceited, bossy, and a terrible person. They continued to isolate Sutton from her friends and peers. The friends slowly stopped talking to her and eventually started being rude toward her.
"I felt like the whole world was against me," Sutton said. "I didn't have anyone to sit with at lunch, and I never hung out with anyone."
"
This show kinda makes me feel depressed, because my character goes through so much."
— Tony Denson
In 85 percent of bullying cases, no teachers or school administrators have made effort to stop the tormenting of victims. Only 7 percent of U.S. parents are worried about cyberbullying, yet 80 percent of all high school student have been cyberbullied; 35 percent of those teens have received threats.
Denson relates to his show choir character so well because he went through bullying from fourth through tenth grade for mistakenly being perceived as gay.
"Bullying makes me feel like I'm nothing," Denson said. "This show kinda makes me feel depressed, because my character goes through so much."
Students believe bullying doesn't exist aside from TV shows because they don't see classmates getting stuffed into lockers. A recent study shows 160,000 teens skip school every day to avoid bullying. American schools harbor approximately 2.1 million bullies and 2.7 million of their victims. Seventy-one percent of students think bullying continues to reign as an issue in schools.
"Look at the positives," Arnold said. "Other people's opinions don't matter as much as yours."
Hang on for a minute...we're trying to find some more stories you might like.
About the Writer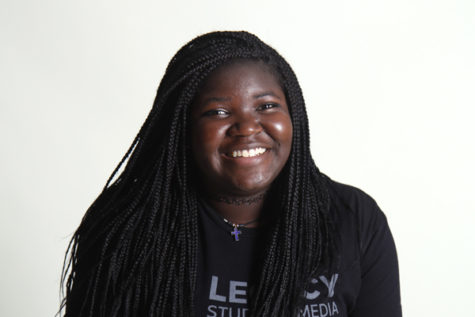 Kendra Washington, Sports Editor
My name is Kendra Washington. I am a senior with a love for Jesus, writing, singing, football and people. I'm the Sports Editor for TheRiderOnline.com...