New Strength and Conditioning Coach Helps Legacy Athletes
Tired teenage boys stand under the indefatigable sun as strength and conditioning coach, Hamilton Greer, gives a ten second warning before blowing his whistle sending the boys off into a sprint down the football field while encouraging them to not give up on the task before them.
Coach Greer, the new head strength and conditioning coach for all three hundred athletes that play sports on campus, also serves as the new head powerlifting coach.
"I want to make Legacy the gold standard of high school strength and conditioning," Coach Greer said.
Football coach Michael Keel thinks that Coach Greer has a positive impact on the team.
"You can tell that he loves what he does," Coach Keel said. "He's really getting to know people and becoming part of the family."
Coach Greer came from coaching at Arkansas State University to coach here at Legacy because it's closer to home, allowing him to spend more time with his family, specifically his wife, who happens to be Coach Kilgore's daughter.
"In college you're away all the time," Coach Greer said. "You don't get to see family much and it's hard."
Senior Brett Bloodworth, who plays as a varsity tight end and linebacker for football, thinks that Coach Greer is just what the team needs.
"Coach Greer brings a lot of energy to the team. He makes us work hard in the weight room and that's what we need," Bloodworth said. "We all take him serious and believe what he shows us is going to help us on the field."
Junior Pearce Weidmer thinks Coach Greer serves as a benefit to the football team even though he's currently recovering from a knee injury and can't play as a junior varsity receiver in this year's fall season.
"Coach Greer is going to make us faster, more disciplined and an overall better football team. Not an opinion; a fact," Weidmer said. "You see a newfound work ethic in almost every Bronco out there. He's one of the best things that's ever happened to our football program."
Sophomore Jake Stacks, who plays as a junior varsity center for football, thinks that Coach Greer brings a brand new energy to the team and makes it easier to improve.
"He brings a lot of intensity," Stacks said. "He makes it easier to get better, he tells you exactly what he wants you to do and shows you exactly how he wants it done."
Though high school may appear as a bit of a downgrade from a university, Coach Greer says that he enjoys it because of the students that he gets to work with.
"I think there are great kids here that come from great homes," Coach Greer said. "They're really starting to work hard."
Hang on for a minute...we're trying to find some more stories you might like.
About the Photographer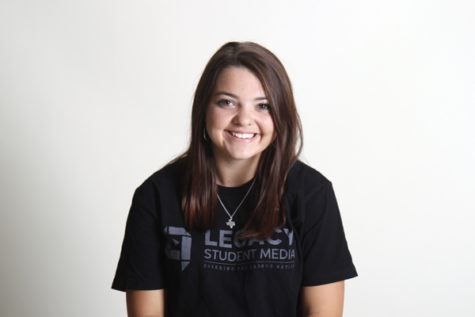 Tori Greene, The Arena Photo Editor
My name is Tori Greene, I'm a senior at Legacy and I'm the photo editor for The Arena.