National Signing Day and the Meaning Behind It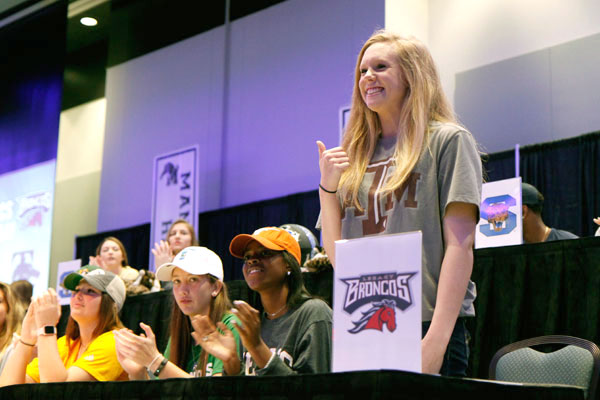 As the second semester of the school year wears down, senior athletes are focusing on the recruitment process and where they might be continuing to pursue their passions. Senior varsity football player Zadok Esters remains undecided about whether or not he will be signing in this signing season.
If I was to sign anywhere, first I would look at the school to see if I could see myself getting an education there," Esters said. "It's God, school, family and then football. If I don't see me going to school for the education, then I don't see me signing there."
National Signing day was on Feb.1. Sixteen Broncos attended the National Signing Day event hosted at the Mansfield Center for Performing Arts.
Of these include: Kendall Catalon signed to play football for Southern University making a big switch from quarterback to wide receiver. Trent Mcdonald committed to run track earlier this school year with University of Houston. Kyleigh Hall signed with Texas A&M University- Corpus Christi to play soccer.
On National Signing Day, senior athletes with offers sign a National Letter of Intent which shows a student's commitment to attending and playing for a NCAA college or university. If a student athlete does not attend the school for which they signed a NLI, they are not allowed to play at another school for a full year. Across all sports, only six percent of high school student athletes move on to play NCAA college sports. Not all student-athletes eligible for graduation from their high school prove to be eligible by NCAA standards. Early signing dates take place in November and later signing dates occur in April. Ester's said he feels his coaches and parents have played a big role in his recruitment process especially after an injury that kept him on the sidelines for most of his senior season.
[My parents] were there for me all the way through surgery. They play a huge part in that decision," Esters said. "I believe my coaches played a big part in helping me look for a college."
Only two percent of student athletes are awarded some sort of athletic scholarship when recruited to play for college teams. Even though Division One schools enroll the most students and maintain the largest athletics budgets. Only 56 percent of students athletes receive athletic aid. A "full-ride" means all tuition, room and board and books are paid. Division three schools can only offer academic or financial aid that can not be affiliated with athletic ability in any way  A player could conceivably have a "full-ride" by getting 50 percent athletic aid and 50 percent academic aid. A different case would be that of Joey Milburn who was awarded a full academic scholarship to play football for Alcorn State University, a Division one school. Milburn was a 2016-2017 all-state academic selection this past football season.
"Academics should be what your end goal [is]," Milburn said. "After athletics you have to have that education."
A recent survey showed that 100 percent of scouting coaches preferred to hear from possible recruits rather than their parents or their current coaches. There are strict rules as to how many times a recruiting coach can contact an athlete, but an athlete can contact a coach at any time so as long as they initiate communication. Despite these facts, football offensive coach Nolan Crowdus said coaches can play a big part in helping a senior athlete make the transition to the next stage of their career.
"No one knows the kid like we do," Coach Crowdus said. "It's a fun process on both ends. I remember when I was being recruited, I try to be the person I needed when I was that age. Kind of like a go to guy.
_________
Athletes of MISD who have received college offers, parents and coaches all gathered at the Center for the Performing Arts on National Signing Day, Feb. 1, to sign to their chosen colleges. This list highlights those from Legacy.
Riley Blanton- Richland College
Tysan Byrd- Grandview University 
Kendall Catalon- Southern University
Meagan Dake- East Central University 
Keaton Dennis- Hardin–Simmons University
Troy Edwards- Navaro University 
Kyleigh Hall- Texas A&M University-Corpus Christi
Trent McDonald- University of Houston 
Peyton McGee- University of Texas 
Trevor Mellot- Harding University 
Joey Milburn- Alcorn State University 
Brittany Munoz- Ottawa University 
Brandon Reeves- Harding University 
Haley Yelle- Texas A&M University 
Hang on for a minute...we're trying to find some more stories you might like.
About the Contributors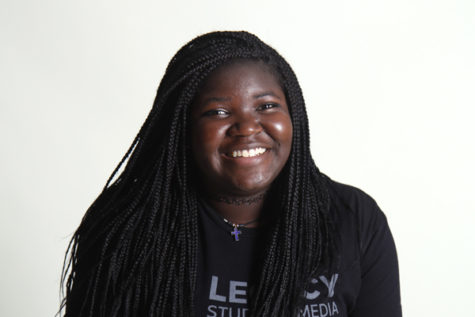 Kendra Washington, Sports Editor
My name is Kendra Washington. I am a senior with a love for Jesus, writing, singing, football and people. I'm the Sports Editor for TheRiderOnline.com...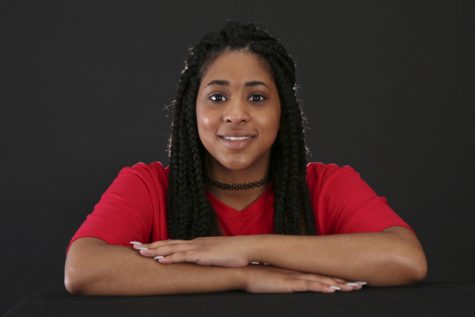 Jada Succes, Photographer





My name is Jada Succes, I like photography and cats. I take pictures of my cats all the time. Although I mostly snap pictures for the newspaper...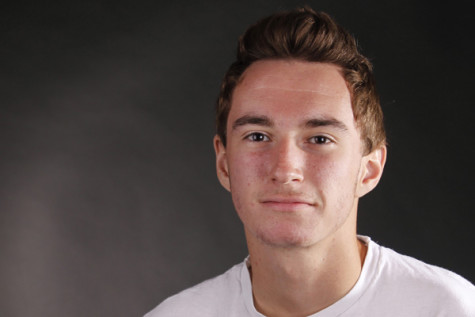 Brandon Bosecker, Photographer
Hello my name is Brandon...if you want to know more ask me