MISD Receives Environmental Excellence Awards
Mansfield ISD's highly successful energy efficiency program was recently recognized by The Texas Commission on Environmental Quality at the twenty-fifth annual Texas Environmental Excellence Awards. Receiving the Innovative Operations/Management Award, MISD prides itself in being the only school district to receive this award since records are available.
Additionally, MISD received a second Energy Star Partner of the Year Award from the U.S. Environmental Protection Agency. As part of such an ambitious energy policy, MISD hired Energy Education Specialist Kelly J. Campbell who attributes the program's success and respectability to an all-inclusive vision.
"The TCEQ's Texas Environmental Excellence Award is just another outside recognition that what we are doing is working and worth being held up as an example for other districts." Mr. Campbell said. "I'd boil it down by saying that we gained this recognition by making sure that everyone knows that they have a role to play."
Though the issue of ever-increasing carbon emissions and the prospect of environmentally friendly energy consumption looms importantly over the minds of countless individuals, the same can't be said for most taxpayer funded school systems.
MISD, however, happens to be one of those exceptions.
The district's now prestigious energy program dates back to 2006 when district leaders saw economically sound and morally fulfilling potential in an expanding demand for energy usage. Now, a decade and 27,000 tons of CO2 emission reductions later, MISD's policy serves as a benchmark for districts seeking similarly productive and efficient energy output results. Though these initiatives have resulted in over $7 million in savings for the district, Mr. Campbell sees motivation spawn out of a civic sense of duty.
"Energy is a finite resource, and as the population of Texas continues growing, those resources will become more and more valuable," Mr. Campbell said. "As consumers of energy, we should also feel an obligation to be efficient in its usage."
Personal obligation soon emerges as a kind of mantra among those who are involved in the district's quest for peak energy efficiency. This holds true for Coach Hamilton Greer who, though randomly selected to represent MISD in receiving the Energy Star Partner of the Year Award, still sees smart energy usage as a valuable asset for everyone.
"Energy saving comes down to being responsible and leaving things in a better place than when you found them," Coach Greer said. "It is another learned skill for all ages to preserve and take care of things we use every day."
Hang on for a minute...we're trying to find some more stories you might like.
About the Writer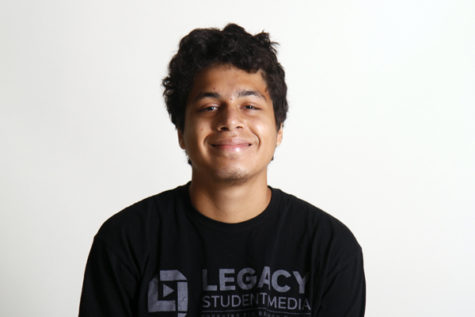 Jose Cruz, The Arena Copy Editor, Staff Writer
Heyo, I'm Jose. I'm a staff writer for The Rider Online and I'm the Yearbook Copy Editor. I love to write and I love (good) music. I have a love/hate relationship...