Battle Of The Classes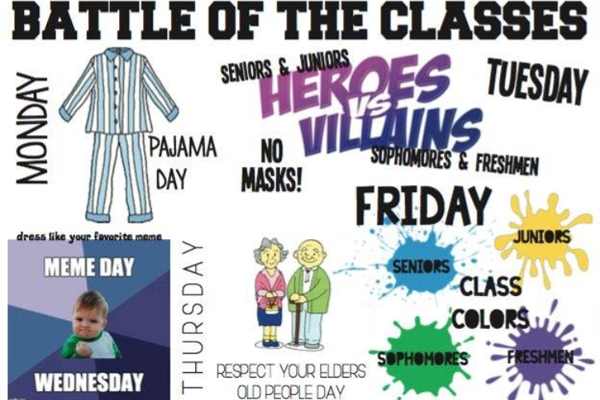 What is Battle of the Classes?
Throughout the week, beginning November 13, classes will hold spirit nights and canned food collections in order to raise money for each class. The Freshman will battle against the Sophomores, while the Juniors face the Seniors. During the week, starting on Monday with pajama day, students can participate in a spirit week with various dress-up days and conclude the week with a pep rally on Friday, which also happens to be the first round of playoffs for Legacy's football team.
Spirit!
In order for each class to battle, the points will be tallied at the end of the week and there'll be one final battle at the end of the spirit week. During the pep rally, ten members of each class will pit themselves against each other, playing games which earn the winning class even more points. Show school spirit by participating in Legacy's hilarious dress-up days:
Monday: Pajama Day. Cold and comfortable, luckily for a Monday.

Tuesday: Heroes v. Villains. Be something you wish to be, or wish you weren't.

Wednesday: Meme Day. Embrace the internet culture and

add to the sensation

.

Thursday: Old People Day. Look at everyone's true future.

Friday: Class Shirts. Shirts were sold through STUCO, but otherwise just wear the same color as your class shirt.
How to Join In
If you want to help gain points for your class, whether you're a Freshman, Sophomore, Junior or a Senior there are a few different ways you can contribute.
Hand in canned goods to your second and sixth-period classes to earn one point per can. After all of the canned goods have been collected and tallied, these cans will be donated to the local Mansfield food pantry. Not only does donating help your class, but your donations help those in need within our district, we unite the community as well as our school.

Attend the spirit nights around Mansfield and say you are a Freshman, Sophomore, etc., from Legacy High School, gaining some points for your class.

On Monday night from 5 PM to 9 PM

, show out to

Chick-Fil-A on Walnut Creek

and grab your favorite cherishable chicken treat.

Throughout the whole day on Tuesday

,

Panda Express on US-287

was kind enough to allow Legacy to fundraise the whole day, meaning students have a whole day to grab some delicious cuisine and support their class. Everyone's second (or first), favorite chicken restaurant,

Raising Cane's on FM157

will be hosting Legacy's third spirit night on

Wednesday between 5 PM and 10 PM

. Do not allow the cold to get the best of you, on

Thursday night

Bahama Bucks on Debbie lane

will support Legacy

between 5 PM and 8 PM

. Come out and grab a snow-cone but don't freeze your brain too much, Friday before the break is still a school day. There will not be a Spirit Night Friday, so come to the game.

To earn another point for your class, make sure to post a picture on Twitter with the hashtag '#LegacyBOTC' following with your class graduation year. As stated before, the seniors need to fundraise for prom this year, and their tag would be '#LegacyBOTC18' earning them one point per tag.
Concluding all spirit week festivities, the class who had the most students turn out to each spirit night and raise the most money will receive the money toward their class.
Enjoy the first Legacy Battle of the Classes, raise money, and show your spirit.
Hang on for a minute...we're trying to find some more stories you might like.
About the Writer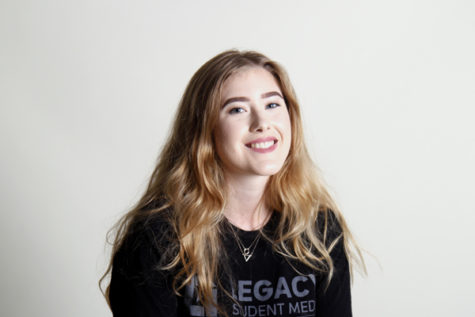 Isabella Modderman, Newspaper
aussie aussie aussie, oi oi oi