Flu Pandemic Strongest in Decades
[UPDATE: Mansfield ISD announced that all absences due to illness, with a doctor's note, will not count against exemptions. We have reached out to MISD administration about the announcement and will update as we learn more]
The United States faces one of the most ferocious flu seasons claiming the lives of many, and with rumors of how the flu shot can affect someone, plenty of people become deterred from getting a flu shot. For the first time in fifteen years, high activity of the flu has been reported in all 49 continental states in the same week, and the season has not even peaked yet.
Doctor Gillian Air, an influenza researcher since the 1980's, continually overlooks each influenza season and stresses each year as she has attempted to create a vaccination for 40 years to get ahead of the virus, only to be outrun by the virus every year. Dr. Air consistently keeps up with the current research in order to keep the nation informed on the flu activity, working with the National Institutes of Health to keep citizens informed. For school students, they may not be in the high-risk range for the worst of the flu, but the cramped environment with a group of students infected makes the process of becoming sick easier, leading schools across the nation to close their doors.
"Most years, it is very young infants and elderly people who suffer most, but some years it's mostly young adults," Dr. Air said. "I think everyone has an equal risk of getting the flu but usually the very young or very old get sicker. A high level of infection in young adults is usually because older people have antibodies that cross-react. People born after the years where there was a cross-reactive virus are not protected."
Common misconceptions cause people to avoid getting the flu shot. Myths of flu include that healthy people do not need to be vaccinated, the shot isn't effective at protecting people and the flu shot may even infect people.
"
Even if the vaccine is not a good match to the circulating virus, and even if immunity has not had enough time to fully develop, the flu shot will somewhat be protective."
— Dr. Air
Dr. Air said. "You might still get the flu, but you won't be as sick and will recover faster than if you had no vaccine."
Flu levels have exceeded the moderate activity level and headed into the widespread high activity range with strain A(H3N2) of the flu taking over the nation this week, claiming the lives of thirty-seven children so far and hospitalizing almost 12,000 people nationwide. Ms. Kenna Cavnar became infected with two strains, one right after the other.
"Thursday the 12th, I went to the doctor and tested positive for the first strain," Ms. Cavnar said. They didn't give me the TamiFlu at the time, and I was down Friday through Tuesday because I was running a fever on Monday. [Next] Thursday morning, I wake up at about 4 o'clock and I'm running a high fever, heads congested, so I go back to the UrgentCare and they test me positive for strain B."
"
All absences related to illness, supported by a doctor's note, will NOT count against a Mansfield ISD high school student's exemption for final exams. Please turn in all doctor's notes to your campus attendance clerk."
— MISD POLICY CHANGE
During this fierce season, understand that it's important to spot the difference between the flu and common cold. Symptoms of the flu rarely show up weeks before the illness strikes, whereas the common cold symptoms develop over time and fade away. Ms. Cavnar had thought the flu had reached her back in December, only to wake up one morning unable to function.
"It was immediate," Ms. Cavnar said. "I woke up, I had a fever, headache, horrible headache, a lot of congestion and I'd just felt like I'd been hit by a bus.They were both horrible. But the first one I ran fever more but I also had bronchitis on top of that, so I think type B is just more of an annoying cough, to the point where I coughed so much I had to call and get medicine for the cough."

Being the one-hundred year anniversary of the 1918 pandemic which killed roughly five percent of the world's population, the fear of the flu lingers once again. Some simple ways to avoid contamination include hand washing, covering mouths and staying home to recover fully before returning to work or school.
"I've never seen it like this," Ms. Cavnar said. "I've been teaching for nine years, and I've never seen people be out for the flu like this year."
Hang on for a minute...we're trying to find some more stories you might like.
About the Writer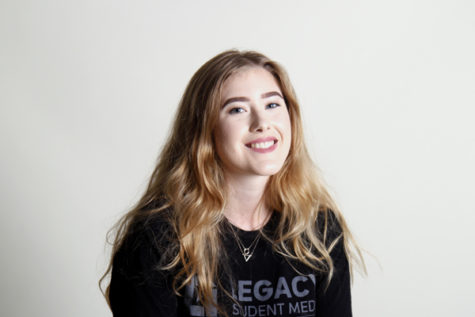 Isabella Modderman, Newspaper
aussie aussie aussie, oi oi oi