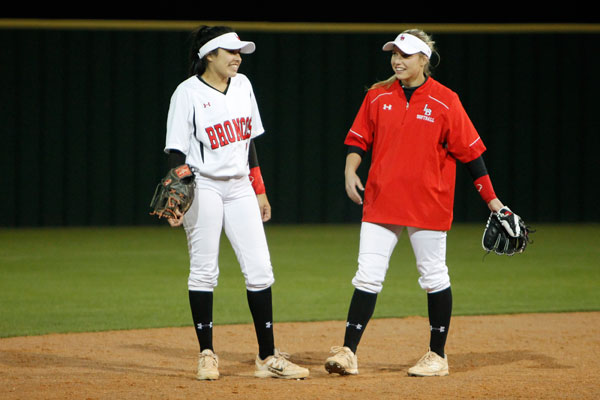 Kristen Bosecker
Silence sweeps through the stands.
The pitcher windmills her arm before flinging the ball towards the batter. The ting of the bat echoes as the ball flies up and falls into The Colony's first baseman's glove, which eliminates the softball team from the Texas 5A High School Softball Playoffs.
But, that was last year.
Since then, the team has had to deal with the loss of seven seniors, but they're still returning 11 players on the varsity roster from last year. Head Softball Coach Amie Prater believes the new faces to mix with the returning 11 will be a winning combination.
"There is a lot of youth, but also lots of experience," Coach Prater said. "This will give us a fresh look for the season. I do expect that we might have to find our way a little bit at the beginning of the season. We have to figure each other out. I believe this group has a lot of comradery."
The program made the playoffs for the past six seasons and has built a name for itself. Winning has become a tradition for them, and a target on their back like that usually that provides more pressure than people can handle. However, Prater thinks there's something different about this group. They just want to have fun.
"There is an expectation and pressure to do well and an expectation for the program to excel as it has traditionally," Coach Prater said. "But some of that pressure is taken back a little bit because there is that fresh fervor of kids who just wanna get out there and play ball and enjoy playing ball. I really am excited though. When you come back and have an entire team returning, that expectation is always there, and it's always in the back of my mind. I expect us to do well and go to the playoffs."
One of those new players is sophomore left fielder, Haylee Gutierrez. Gutierrez started last year until an early-season injury resulted in an early end to her season. But now she must step up again and Gutierrez would love to seize this opportunity.
"It feels great being able to be there for my team 24/7," Gutierrez said. "I'm so excited for the season."
Although Gutierrez was on the playoff roster last year and didn't play much, she has that experience of being in deep in the playoffs and knows how to handle it. She expects to build off what they started last year.
"My expectations are for us to go to state this season and take that state ring," Gutierrez said. "I think losing the seven seniors last year is a way to prove to all the schools that it doesn't matter, because you have a great coach and amazing players that go out there and show their talent."
Their first district game will be Feb. 13 at Aledo High School against the Bearcats at 7 p.m.