The Revival of Ultimate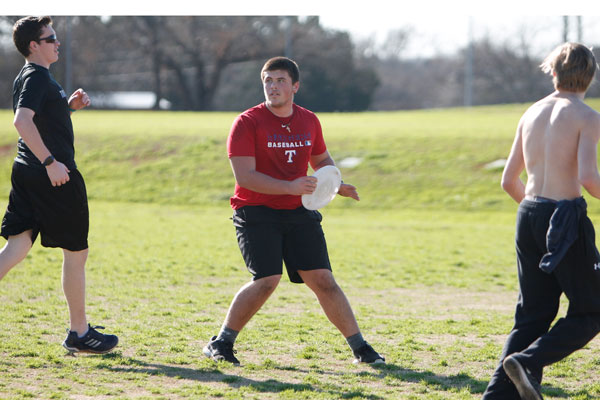 Junior Landon Wentz's eyes search the sky. He squints, trying desperately to find the soaring disk in the sun's bright glint. He tunes out the sounds of his teammates screaming so he can focus. He finds the white disk and lifts his right hand. When he realizes the wind is gonna carry the disk away from him, Wentz jumps and catches the frisbee in the end zone.
Ultimate Frisbee Club began again on March 2. It was founded last spring after a group of students decided that the game should be a sport here at Legacy, but since it could be years before UIL even considers that idea, they figured they should make it a club in the meantime.
"It's a sport that not a lot of people play, but it takes a lot of time and practice to get better," Wentz said.
By definition, ultimate frisbee is a game between two teams whose players try to toss a frisbee to one another until they cross the opponents goal or end zone. Possession changes hands when the frisbee gets intercepted, touches the ground or goes out of bounds. Once a player has possession of the frisbee they are unable to move, only pivot.
The club meets in Mr. Davis' room before finding an unoccupied field here on campus to play on.  Teams are picked kickball-style (two captains get to pick one player at time based off of their own personal preferences) and captains are switched around randomly every game. Senior Sam Troutt said that he has enjoyed being apart of the club since it started last spring.
"My favorite thing about the ultimate frisbee club is no matter who shows up or how many people are there we can have fun," Troutt said. "It's a great workout."
The Ultimate Frisbee Club welcomes everyone, especially newcomers. You can join the ultimate frisbee squad every Friday after school in Mr. Davis' room AT219.
"This club has a lot of close friends," Wentz said. "But there's also some new people like freshman and sophomores that I didn't know at first, but I'm starting to get closer to them while playing ultimate."
Hang on for a minute...we're trying to find some more stories you might like.