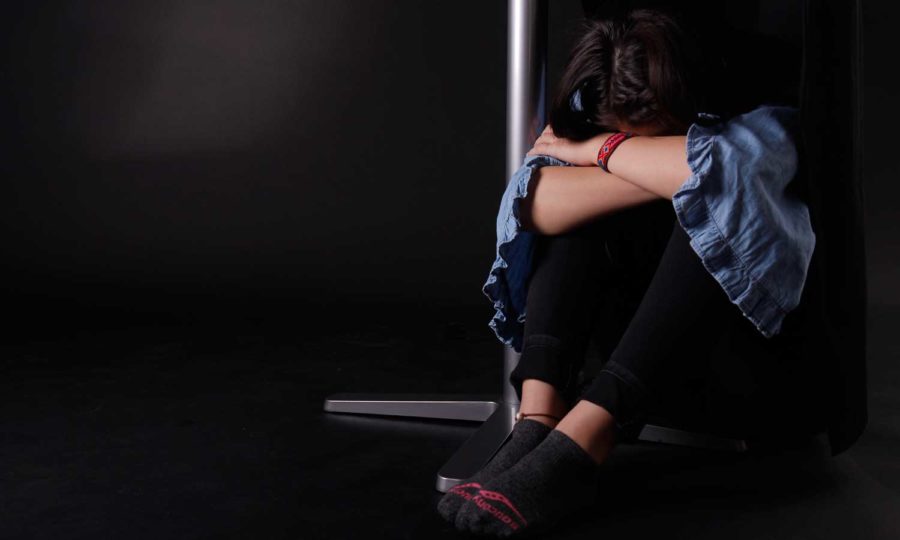 Ryland Mallett
As a child, Pamela Jo* remembers chasing butterflies with her best friend in a field behind her house. She remembers the soccer and dance trophies on the dresser across from her oak bunk bed. She remembers watching Kim Possible in her living room with its bark-colored walls and grand stone fireplace. 
And she remembers the pain. The pain of seeing her stepfather. The pain of abuse. 
Jo represents one of the nearly four million children who experience abuse in the United States each year. As reports of such abuse rise, victims continue to feel the immediate and long-term effects of their trauma. 
"It was all I knew for the longest time," Jo said. "I thought that was what childhood was supposed to be like. I now know that's definitely not how it works." 
As a child, Jo watched her friend sass her mother, and felt shock when she was not beaten. Every time she witnessed "normal parents" she was confused and skeptical. Now, she continues to mistrust those she interacts with. Like many other survivors of abuse, Jo experiences betrayal trauma.
"As an eight year old it was hard to even comprehend what was happening. It just feels so lonely," Jo said. "After the two people you're supposed to be able to rely on the most in the world, your parents, [betray you], it's hard to be able to trust anyone."
Jo moved across the country from her abusive stepfather at nine years old. For Christmas her mother bought Jo a one-way plane ticket to Texas. She visited her dad and stayed with him until her mom and brother came a month later.
But seven years later, she still feels the effects of her harsh situation.
"I'm still kinda struggling with some social skills," Jo said. "It screws you up mentally and for me physically as well, but I'm still alive."
Jo currently attends therapy, as she struggles with depression and panic attacks. One study found 54 percent of cases of depression and 58 percent of suicide attempts in women connected to adverse childhood experiences.
Survivors of childhood trauma also stand at an high risk for other psychological disorders such as borderline personality disorder, anxiety and dissociative disorder. Student Support Counselor James Bedwell has seen the mental effects of child abuse in students, even if they do not experience it as teenagers.
"From a mental health standpoint, the more you reduce child abuse the more you're going to reduce mental health problems as a whole," Mr. Bedwell said. "Most people don't want to talk about it, but [abuse] usually comes up in their history to help them connect their dots back to what it was."
Memory suppression also contributes to mental health issues. Jo admits she never understood what happened to her. She suppressed her memories. Although doing so can help at first, eventually those memories will resurface as psychological complications. Thus, Mr. Bedwell stresses the importance of "connecting the dots" in mental health issues. 
"The later it sits in there the more it festers up and it's harder to connect it back to what the actual problem is," Mr. Bedwell said. "If you can find the source of an issue it's easier to deal with it."
Over 6.6 million children have the same story as Jo. Not only does the United States have one of the worst records among industrialized nations when it comes to child abuse cases, but Tarrant County also has the highest percentage of child abuse-related deaths amongst Texas' 254 counties. Twenty-one percent of those victims fall under the age of one.
"When we educate the community about the realities of child abuse, people are often shocked that this happens in their own community," Katia Gonzalez, Alliance for Children Community Outreach Coordinator said. "Our hope is after learning the facts and becoming more aware, individuals will want to be directly involved with organizations through volunteering, donating resources or using their "circle of influence" to spread awareness of child abuse."
Recognizing the signs of child abuse can save an infant's lifelong well-being. Signs include aggression towards oneself or others, persistent fear or avoidance, delays in development and/or a rough appearance. 
To survivors and sufferers of child abuse, Jo suggests finding something to love and focusing on that for joy.
"That one little thing you love will blossom and that will be your life and you'll be the happiest you've ever been," Jo said. "[Abuse] only kills you if you let it kill you."
*Name changed for privacy.