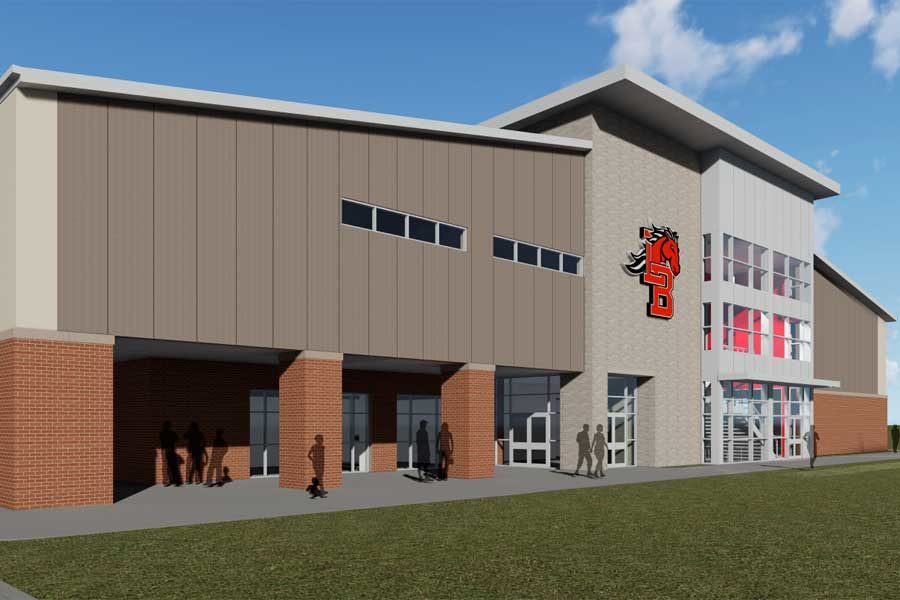 The big, huge thing in the school's backyard is coming to life.
Mansfield ISD finally got their plans for "Multi-purpose Athletic Centers (M.A.C.)" at each high school campus into the construction phase at the beginning of this semester. Contrary to popular belief, no indoor football field comes from these plans, and the facility is not restricted to football, but is open for every sports program. These M.A.C.'s are split into two construction phases, with Phase 1 being built now with Phase 2 scheduled to begin sometime after the first phase.
Phase 1 will include: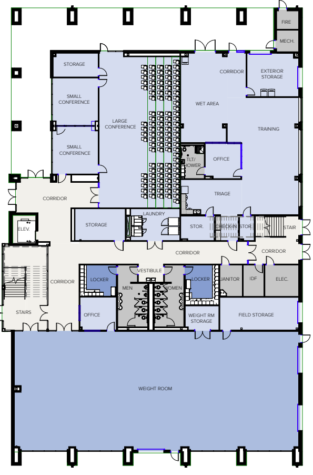 One large conference room = 1,906 sq ft
One large conference storage for the large conference room = 246 sq ft
Two small conference rooms = 338 sq ft each
Small conference rooms storage = 163 sq ft. each
Weight Room = 5,932 sq ft.
One sports medicine center = 3,170 sq ft. (includes office, wet area, check-in, storage, and built-in cabinets with a sink and refrigerator/ice maker)
And one laundry room = 255 sq ft. (2 Washers and 2 Dryers)
What this means:
 All sports will have access to the team meeting rooms and conference rooms
The new weight room will more than double the size of the current one
The new training/medicine center will be larger than ever and will have in-ground cold tubs for athletes
Athletic Director Chris Melson believes the facility will bring a plethora of benefits for the school's athletic programs.
"It's going to help us develop our student athletes as far as the weight room. We'll have more room to work out more of our athletes at the same time and get more done each athletic period," Coach Melson said. "It's just a first-class facility that's going to be second to none to any high school in the state."
Phase 2 contains mostly the second floor and any remaining shell space on the first floor. But, this phase belongs mainly to the football program.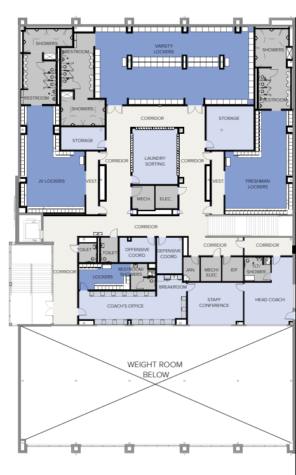 Phase 2 will include:
One Varsity Football locker room = 2,022 sq. ft with 85 lockers measuring 30x30x72 inches/ Varsity Restroom & Showers = 523 sq ft. / Varsity Storage space 326 sq ft.
One JV football Locker room = 1,067 sq ft with 100 18x18x36 stacked lockers / JV restroom and shower = 464 sq ft. / JV storage space = 196 sq ft
One Freshman football Locker room = 1,097 sq ft. with 100 18x18x36 stacked lockers / Freshman restroom & showers = 444 sq ft.
One Head Coach Office = 441 sq ft including personal bathroom and shower
Two Coordinator Offices = 150 sq ft each
15 position coach offices/restroom&shower = 979 sq ft.
One staff conference room = 379 sq ft.
One Laundry sorting room = 445 sq ft.
What this means:
With football moving out of the current field house, there will be four available locker rooms
Girls Soccer and Softball won't have to share locker rooms
Boys Soccer and Baseball will no longer have to share locker rooms
There are plenty of coaches offices free to the other sports
The current weight room could potentially be remodeled and changed for an alternate use as well as the current training room
With the completion of the M.A.C., Coach Melson plans on each program having a space to call their own.
"Right now, the locker rooms for some sports are overcrowded, so our plan is when Phase 2 comes along is for the [current] football fieldhouse will be emptied," Coach Melson said. "The great thing is, Soccer could move in and everybody will almost have their own fieldhouse."
Read more information regarding MISD's plans and the M.A.C. using this link.