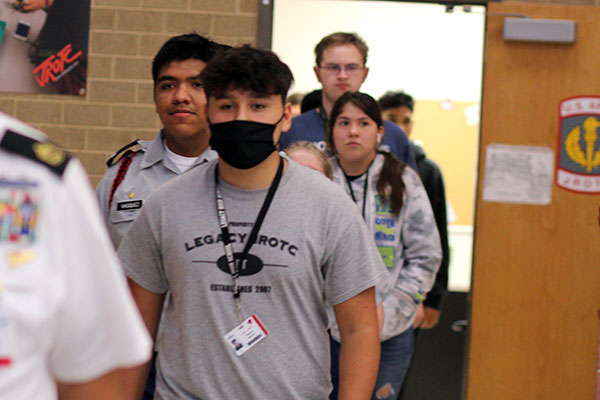 Nicole Novak
During an active shooter incident Oct. 6 at Timberview High School, Legacy went on a modified lockout securing all 64 exterior doors from anyone entering and exiting campus and not allowing students to switch classrooms.
Because of the gunman's social connections to Legacy, staff and administrators focused on securing the school. Students remained in second-period classrooms for more than four hours. Summit High School also went on a normal lockout until noon. Other Mansfield high schools did not enact lockout or lockdown procedures.
The alleged gunman, Timberview senior Timothy George Simpkins, consulted with an attorney then turned himself into the Arlington Police Department shortly before 1:30 p.m. Officials lifted Legacy's lockout soon after his arrest. Simpkins was charged with three counts of aggravated assault with a deadly weapon and was booked in the Arlington City Jail with bail set at $75,000. Simpkins was released on bail Oct. 7. 
Dr. Shelly Butler, principal, says she kept the safety and security of students and staff at the forefront of her mind.
"You just jump into action and feelings are gone. It's just [following] what the rules say to do," Dr. Butler said. "I heard he was at large, and that there's a possibility of a social connection with a student at Legacy High School, so we wanted to be extra cautious."
Shortly after 9:45 a.m., a school resource officer advised Facilities Associate Principal, John Contreras, of the incident at Timberview and began implementing lockout procedures at Legacy as details of the shooting developed. A few minutes later, Mr. Contreras made the initial lockout announcement to students and staff. 
"I felt emotional about it, but knew that I had trained for this for years," Mr. Contreras said, "I knew exactly what to do. I was calm, collected and focused on getting the kids and the teachers into a lockout."
Mr. Contreras announced the lockout on the intercom and stressed "this is not a drill." Senior Madeleine Gilbert sat in Aquatics with Coach Chad Redwine when the announcement came on. 
"I looked around to see if anyone shared my initial reactions. It felt like a movie I never thought I'd be cast in," Gilbert said.
While students focused on keeping each other comfortable and safe, administrators created a plan for students to eat lunch as efficiently and safely as possible. 
"I wanted to do an elementary style [lunch] where teachers walk you and bring you back because I didn't want people trying to bolt out of the building or let people in the building," Dr. Butler said. "When students are here, I'm going to protect you. I'm going to go to the highest degree of protection. It may be overprotective, but I'd rather do that than underreact."
During the lockout, parents expressed concern on social media about Legacy's communication to parents. 
"This all happened so fast. We were utilizing all of our staff," Mr. Contreras said. "None of us were just sitting behind a computer working. We were all focused on lockout procedures."
Parents, concerned about their child's safety at school, look to review current safety policies and procedures for Mansfield ISD. Dr. Butler asks students in the meantime to stay diligent in keeping doors locked, not allowing adults or students into the building unless through the proper front entry and report anything suspicious to Crime Stoppers. 
In a district update, Dr. Kimberly Cantu, Mansfield ISD Superintendent, said the safety and security of students and staff is a top priority.
"What happened can only be described as devastating, and we are providing the support needed in order for students, staff and families to process it in a healthy manner," Dr. Cantu said. 
Aside from the fears caused by rumors circulating, the lack of Wi-Fi in several schools across the district created additional stress in students, as they were unable to communicate with friends and parents. Mansfield ISD Technology confirmed the outages in over a dozen schools throughout the district were unrelated to the shooting. At this time, the cause of these outages is unknown.
"I literally did nothing," Gilbert said. "I couldn't use TikTok, YouTube, Snapchat or Instagram. It was frustrating. I just talked to my coach and his two kids who eventually came into the class."
Around 1:30 p.m. issues with the Wi-Fi were resolved and the suspect was in Arlington Police custody. Shortly after, the administration lifted the lockout protocol. Students then moved to fourth-period classes while over 180 parents came to Legacy to check out their children. Counselors, secretaries and other non-teaching staff assisted the attendance office with checkout procedures.
"We had a checkout process for our parents because we have to. It's protocol," Dr. Butler said. "It was like when people have a new baby in the hospital. They put a band on the baby's arm and a band on the parent's arm. If the bands don't match, you can't have that baby. That's exactly what we did."
To pass the time during the lockout, students played cards and watched movies such as "Finding Nemo" and "Beetlejuice." 
"I think the teachers did what they could to keep us calm considering the circumstances," Gilbert said. "It took nearly an hour before being able to leave the campus parking lot, and I felt like it could've been more efficient. That wasn't in the administrator's hands."
The district canceled Timberview's classes Oct. 7 and students will return to school after the holiday break. Extra officers were on duty at all other MISD campuses Oct. 7, as an extra security measure. 
"I feel I ultimately am responsible for every single person [on this campus] custodians, kids, teachers and staff members," Dr. Butler said. "I am the parent when you're here, and so I'm going to protect you."