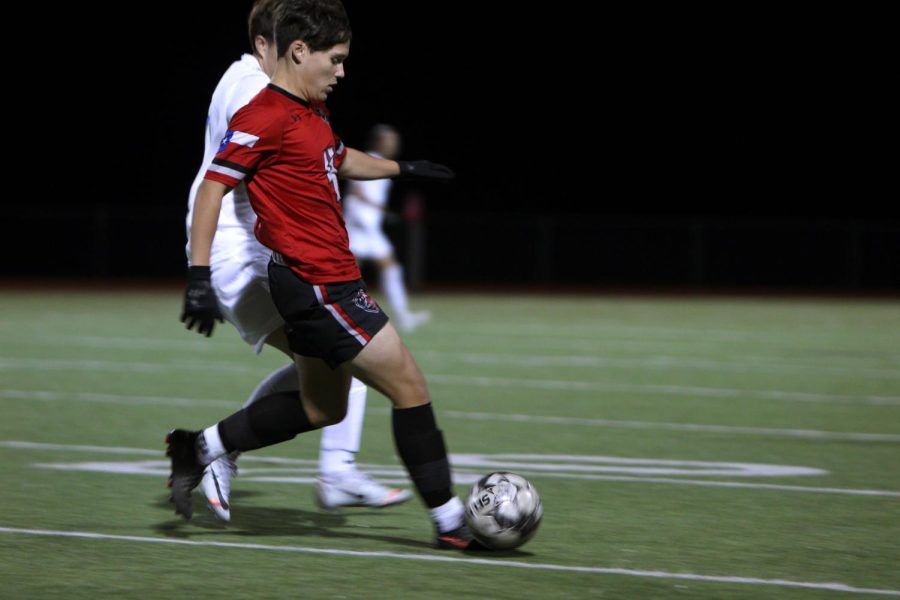 Nicole Novak
While preparing for this senior season, senior Casey Kruger explored his options for college, and on Dec. 16, Krueger made a decision. Krueger committed to Texas Wesleyan to play college soccer for the Rams. He currently plays his fourth season of soccer at Legacy. Casey's optimism for college and the expectations of his growth sparks his excitement to play soccer on his new adventure.
"I'm excited for the new adventures that await me and my new team in college, and to learn and grow not only as a soccer player but as a person," Krueger said.
Krueger's inspiration plays a big part in his success and drives him to be a better player.
"Messi is my biggest inspiration. I've always been small, so I thought it would be harder to play against bigger guys," Krueger said. "Messi is 5' 7″ and goes against the best players in the world who are all taller than him and that never stopped him so why should it stop me."
Texas Wesleyan made Krueger's decision easy because of the instant support and welcome he received from the team.
"I chose Texas Wesleyan because it's closer to home, but mostly because when I played with them for the first time they welcomed me with open arms and were excited to have me there. All of them just want to win games and have fun, and I love that mindset," Krueger said.
The importance of high school can teach a lot of lessons and Krueger believes the work he's put in through high school soccer will translate into his college career.
I know it sounds cheesy, but it really does go by before you know it, just enjoy all the moments with your friends and take in all the lessons you learn in college or whatever you do in life," Krueger said.
Casey's preparation is key to succeeding in college and his hard work will help allow him to compete at the next level.
"I'm preparing for the next level by training hard like I've never done before. Everyone in college soccer plays overseas and they don't play anything like high school players. I'm training to become stronger to compete with everyone," Krueger said. 
Head Coach Micheal Keel is proud of Krueger's hard work and it has paid off for him having success.
"Casey has always worked hard to attain his success," Coach Keel said.
Keel coached Casey for two years and his abilities have stood out amongst other players.
"His never say die attitude. He also is a great communicator on the field," Coach Keel said.
Casey has made an impact on the boys soccer program and he's anticipating the next experience of his college experience.
"Casey has been an integral part of our midfield over the last 2 years.  We wouldn't be where we are without him," Coach Keel said.