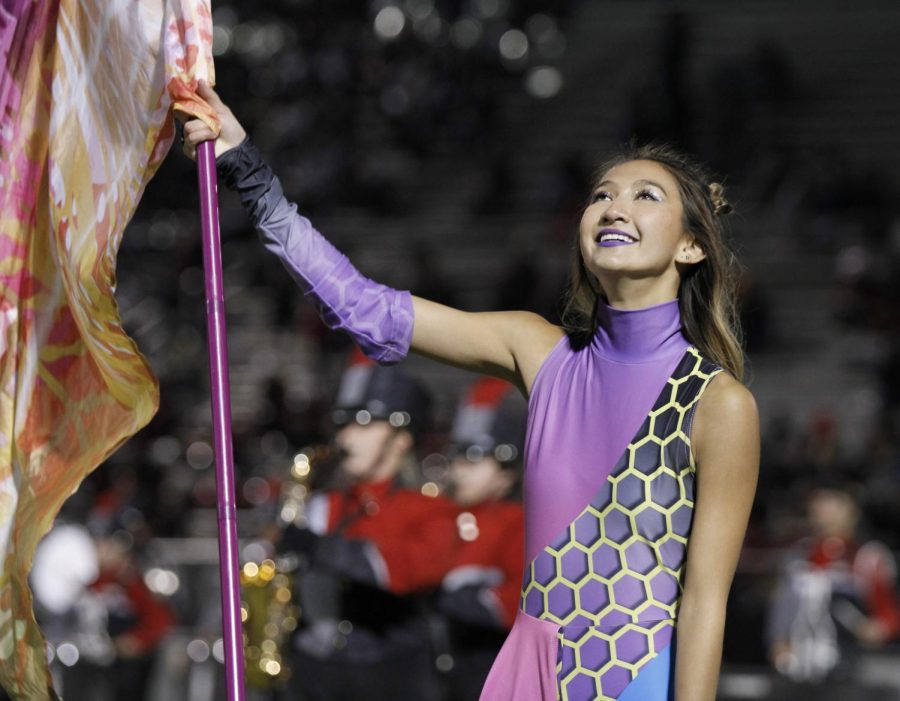 Brooklyn Hilmes
Square on the 25-yard line, senior Guard Captain Christina Flores tossed her rifle into the air, as she's done hundreds of times before. The rifle landed in her hands, perfectly in time to the blare of the trumpets behind her. She knows every spin of her flag and every toss of her rifle under the Friday night lights is coming to an end, but she smiled anyway.  
During the first semester, the band began to prepare their show to compete in the UIL marching competition. The organization began preparing for the show in July during band camp and continued until November. The show's theme was "Otherworldly", a concept that focused on the strangeness and the familiarity of the Earth.  
"In marching band, our primary function is to be entertainment for the football crowd, and that's what a lot of people see," assistant band director Christopher Monasmith said. "The other function is our UIL event and trying our best to be and prepare for that as best as we can out on the field."
The band experienced a historic marching season with all top ten finishes at all their competitions. The band previously placed ninth at area finals in 2019. The band finished its competitive marching season on Oct. 23 at the area marching contest. They placed 10th out of 22 competitors and it is the second time in a row in which the band advanced to the area finals.
"It's always a wonderful feeling to win, but I am overall just glad at the improvement in the students," Monasmith said. "I am excited for the future seasons and not make this the peak of our program."
The color guard also competed and performed with the band during marching season. Guard Captain Christina Flores took pride in the reputation of the guard and worked to uphold it throughout the season.
"Guard has always done really well in competitions and I believe we held up that standard this year. Ending sophomore year so abruptly left us only wanting more and finally being able to compete again made us leave everything out there," Flores said. "I'm proud to be the captain of the guard with Esther because we had an amazing last year."
Monasmith expressed his gratitude to have a successful marching season and the precedent it set for the remainder of the year.
"Having a great marching season always [sets] a positive vibe for the rest of the year. I am happy to have been a part of it and help the band achieve what we were able to achieve," Monasmith said.