President-Elect Trump: Now What?
November 9, 2016
Donald J. Trump defied the political establishment on election night by being named the 45th president-elect of the United States. The billionaire businessman and inexperienced politician overcame 16 other Republicans during the primaries and was named the Republican nominee. Facing Democrat Hillary Clinton, an experienced politician who's been in the "establishment" for over 30 years, it seemed like Mr. Trump had no chance. However, on Nov. 9, he made history by receiving 290 electoral votes, defeating Clinton by 62 electoral votes and exceeding the required minimum of 270 to become president.
Mr. Trump will officially be named the president once the Electoral College votes on Dec. 19. President Barack Obama will remain as president until Inauguration Day on Jan. 20.  For the time being, Trump has to undergo a presidential transition. A presidential transition involves the president-elect choosing hundreds of personnel and finalizing his policy decisions. Under the Presidential Transitions Improvements Act, representatives from the Trump administration are involved in transition groups to fill nearly 4,000 positions.
In the 10 weeks preceding Inauguration Day, Mr. Trump must choose the members of his new administration which includes a chief of staff, national security team and the Cabinet. The Cabinet includes the Secretary of State, Secretary of Defense, Secretary of Treasury, and the Attorney General (the highest ranking law enforcement official). These nominees will be approved by the Senate and sworn into office just after Mr. Trump is inaugurated. Mr. Trump will also begin the process to appoint a Supreme Court justice vacancy.
Mr. Trump claims his first days in office will be spent restoring constitutional rule and protecting American workers by reopening the North American Free Trade Agreement and leaving the Trans-Pacific Partnership. Mr. Trump's plan also includes a hiring freeze on new federal workers, excluding the military, public safety and public health.
Additionally, Mr. Trump will receive policy briefings. He will have to review these briefings and formulate his final policy plan for execution during his four years as president.  
President Obama and his administration will work to transition from their presidential lifestyle to retirement after Jan. 20. He will wrap up the shutdown of Guantanamo Bay and although highly unlikely, convince Congress to approve the vacant Supreme Court justice position. Additionally, President Obama has expressed to Americans to "root for [Trump's] success" despite his opposition to the president-elect previously. He is currently trying to unite the American people to promote a peaceful transition come Inauguration Day.
After Mr. Trump is sworn in and gives his inaugural address, he will move into the White House. Traditionally, the Former First Lady gives a tour of the White House to the new First Lady. The permanent White House staff will say goodbye to the Obamas and hello to the Trumps just hours apart.
President Obama was the first president to establish an official presidential Twitter page. The account will be transferred to Mr. Trump on Jan. 20 at noon when President Obama's term officially ends. The National Archives and Records Administration will preserve the information on the social media accounts to ensure their permanence, then the Twitter will be cleared out and handed to Mr. Trump. All of President Obama's old tweets on the @POTUS account will be made available online, while President Obama will assume the new username @POTUS44. All other social media accounts belonging to the president will be cleared out and transferred to Mr. Trump.
With the country divided, Mr. Trump began to unite the country by saying, "Now it's time for America to bind the wounds of division. We have to get together. To all Republicans and Democrats and Independents, I say it is time for us to come together as one united people. It's time," in his election-night speech. "Last night I congratulated Donald Trump and offered to work with him on behalf of our country. I hope that he will be a successful president for all Americans," Hillary Clinton said in her concession speech.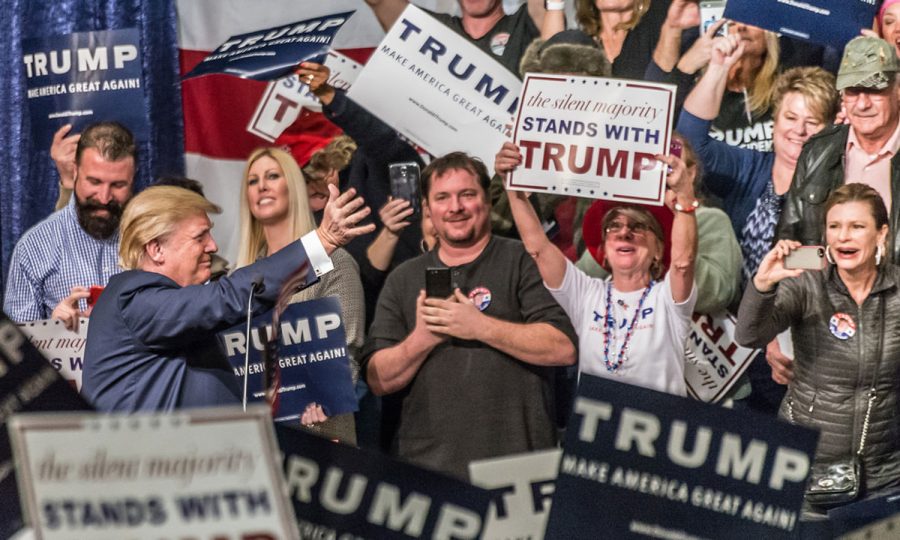 Darron Birgenheier (Creative Commons Flickr.com)
Opinion: Thoughts on President-Elect Trump
Monika Veliz, 10
"Honestly, I feel like Clinton and Trump are equal. I don't feel like this is bad [or] this is worse than Clinton. Trump wants to build a wall on Mexico and then Clinton does that abortion stuff. Either way, people are gonna be like 'oh, it's terrible.'"
Kara Spencer, 10
"I am shook. I'm just as scared of his radical supporters than I am of him."
Katy Thomas, 10
"I am terrified. I do not think that Donald Trump stands for diversity, equality, or rights for women."
Adrian Olvera, 10
"I think it was a good thing because Hillary Clinton wasn't a good candidate."
Austin Wright, 9
"He addresses the main topics, but his simple-minded nature undermines the specifics needed to reach a resolution."
Chloe Johnson, 9
"I'd be upset if any of the candidates got elected, but I feel he's not fit to be president. It makes me scared for this generation because it shows everything is going downhill."
Hannah Austin, 10
"I do not agree with him being president. He thinks women should be under men. He's going to cause a lot of warfare, and the only good thing about him is that he is not a politician."
Macie Boone, 12
"It's like when Mommy Clinton and Daddy Trump are fighting and all you want to do is live with Uncle Bernie."
Cameron Chlup, 10
"He's not as bad as everyone says he is. People don't listen to what he is really saying."
Kamryn Hannigan, 9
"They are going to need a whole other White House to fit his ego."
Channing Walken, 9
"He's very upfront about how he feels, but that doesn't make him a bad person."
Christin Cahill, 9
"I feel like he is biased towards everybody."
Ben Garcia, 10
"I'd have to say that this is the epitome of empty promises. Someone has won with no experience whatsoever, a racist rhetoric, and eschewed beliefs."
Makenzie Sartain, 11
"I feel like he's the better of the two, and I feel like he'd be more successful in the long run."
Garrett Shadwick, 12
"I'm excited; I think he's going to keep a lot of business in America and cut down regulations."
Joshua Hogue, 12
"I feel like it's divided America in many ways. I feel like we can't look at the supporters of the other candidates as human; we see them as enemies."
"
There's no way to know for sure who would've been worse. Even if Trump screws this up, there's no guarantee Hillary wouldn't have screwed it up just as bad or worse."
— Leah Goodman, 12
Kasie Haemker, 12
"America has made its bed, now they have to lie in it, whether it's good or bad."
Ms. Jodi Esaili
"We get another chance in four more years. I think that the electoral college needs to be changed."
Jeff Jameson, 12
"He is a better option than Hillary."
Ms. Michelle Hurst
"America is bigger than our president, I still have hope for America."
Cameron Parker, 10
"I'm in the middle. I am nervous for my life and my generation."
Ms. Amanda Shingleton
"Change isn't negative and it is a part of life. I embrace change even though it can be scary."
Coach Michael Keel
"As a historian, I was extremely interested with the 2016 election. In this election, there were a lot of firsts but also things that were similar to the election of 1828."
Ms. Shelly Burkett
"I am cautiously optimistic about our future."
Jason Hollingsworth, 12
"They were both bad choices. I feel like Hillary lost because people thought the election was already won."
Brianna Seager, 12
"Honestly, I'd rather not have a liar in office, so this will have to do."
Carly Eisenhower, 10
"Canada looks safe, and Mexico looks warm."
"
I believe in the democratic process and so as a result, I believe we need to support our president and make sure all Americans are represented in an equitable manner."
— Ms. Zel Ready
Megan Dees, 10
"We're slightly less screwed with Trump than [with] Hillary Clinton."
Steven Tarver, 11
"I feel like he's gonna do bad things to the LGBT community."
Robert Romero, 10
"I feel like Trump will help economically, but will make poor social decisions."
Jonathan Ake, 9
"Well, out of the two, I'm happy, but I'm not favoring Trump over Clinton. Just not expecting World War III as much."
Garrick Hague, 9
"Although it could be worse, I don't agree with all of his policies."
Margaret Vo, 11
"Either way, it was going to be a questionable candidate. But at the same time, I wish he would get impeached because of the derogatory comments he made about the minorities. I don't feel safe by the comments he makes."
Landon Wentz, 10
"We're screwed. It was a lose-lose situation. You had to pick your poison. You had to choose the lesser evil of the two."
Kelly Jasper-Stewart, 10
"I don't think Trump was good. Trump is sneaky just like Hillary. If I had to choose between the two, I would've chosen Hillary."
Michael Elem, 11
"Trump: A mix between trash and a dump."
Natasha Sweaney, 10
"Trump says he can do certain things, but the majority of the people know he can't do it. But he's an overall good person."
Ashley Perez, 10
"I don't like him [Trump] whatsoever. I don't like Hillary either. I feel like the future of the country might go down because he has no experience."
Getting to Know Donald Trump
June 14, 1946: The Beginning of a President-Elect
Mr. Donald John Trump was born on June 14, 1946 in Queens, New York, to parents Frederick C. and Mary MacLeod Trump.
Feb. 14, 1983: The Opening of Trump Tower
Trump Tower opens in the middle of Midtown Manhattan, New York City. The building serves as the headquarters for The Trump Organization.
Nov. 12, 1987: Making the New York Times' Bestseller
Mr. Trump's book of advice, The Art of the Deal, publishes and stays on the New York Times bestseller list for 51 consecutive weeks.
January 1989: Time for Fame
Mr. Trump appears on the cover of Time Magazine for the first time.
1991: Money Runs Out
Trump Organization declares bankruptcy for the first time.
1992: Twice Broke
Once again, The Donald files for bankruptcy.
2004: Third Time's the Charm
Third time's the charm? This makes three declares for bankruptcy on Mr. Trump's part.
March 2000: The Simpsons Predict the Future
A Simpsons episode aires in which Mr. Trump becomes President of the United States. The prophecy came true 16 years later.
Jan. 6, 2007: Born a Star
Mr. Trump receives his very own star on the Hollywood walk of fame.
2009: Seeing a Pattern
It seems bankruptcy remains a hobby for this soon-to-be president-elect as he claims his indebtedness for the fourth time.
June 16, 2015: Trump Announces Presidency
Mr. Trump officially announced his running for the presidency. During this speech, he stated that, "When Mexico sends its people, they're not sending their best… They're bringing drugs. They're bringing crime. They're rapists. And some, I assume, are good people."
July 19, 2016: Becoming the Candidate
On July 19, 2016, Mr. Trump became the official Republican candidate for president after winning the majority of the primaries and caucuses.
Oct. 24, 2016: Chances Down to Zero
With 15 days left in the election race, Mr. Trump's chances of success were dipping toward the lower percentages according to the polls. Nevada was moved from being a "toss-up" to a "lean Democratic" state. Utah moved from being a "lean Republican" state to a "toss-up" after independent candidate Evan Mcmullin showed considerable progress in the polls. McMullin had succeeded in pulling many of Republican voters away from Mr. Trump, which tips the scale heavily in Clinton's favor. The math now equals out to Clinton having 323 electoral votes either in her favor or against it.
Oct. 26, 2016: A Star Demolished
Mr. Trump's star on the Hollywood walk of fame shatters to pieces after a civilian dressed as a construction worker demolishes the five-pointed icon.
Nov. 9, 2016: Trump Elected President-Elect of the United States
On Wednesday, Nov. 9, 2016, Mr. Donald John Trump was elected as the President of the United States after winning 23 states and a total of 279 electoral college votes. At 3 a.m. EST, Mr. Trump addressed the nation, saying, "Now it's time for America to bind the wound of division; have to get together. To all republicans and Democrats and independents across this nation, I say it is time for us to come together as one united people."