Crossing Cultures
Students Move from Africa to United States
March 16, 2020
When he was 12 years old, sophomore Alex Smith stood in the concrete building where he spent most of his time with his brother and friends. The children around him talked and laughed, but he paid no attention as he watched a stranger stare and walk up to him. She would be his future mother. 
"
I was getting something better than I had"
— Smith
Four years ago, Smith's life changed. He moved away from the only home he ever knew in Uganda to the United States. Seven years ago, he joined The Suubi Project. Gary and Cheryl Sargent set up this project as a way to help less privileged children in Uganda get a better education and a chance at a successful life. There he and his brother met Kerri Smith four years later. Ms. Smith adopted them both. It seemed as though the purpose of Suubi became fulfilled for them because in Luganda suubi means "hope."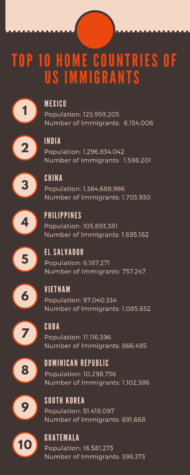 "Uganda is a poor country and I was getting something better than I had," Smith said. 
Smith lived with more freedom in Uganda because he lived in a communal area. The children in the community moved about the area more freely than they would in America. The children lived in the same dorms and shared rooms with one another. Other children in the neighborhood who lived outside the project compound also played with the children at Suubi. Smith, along with hundreds of other children, lived in a compound with several residential buildings, a school and a church. He abided by less strict rules at school and home. He encountered problems as he tried to adjust to the rules after he moved.
"Coming from Uganda, I basically had no rules but getting here, I was being controlled everywhere," Smith said. "It's pretty challenging." 
Thirteen percent of American immigrants do not speak English at all. Smith fell in this statistic when he first moved to Texas in 2014. He began the ELL program in elementary school to further his knowledge of English Language.
"People often complained about my accent," Smith said. "I knew a little English. It was not good enough, and people told me to go back to Africa."
Smith started school in Uganda at age 1, so he felt out of balance when he came to the United States, where children begin school at 5 or 6 years old. Smith repeated grades that he already took in Uganda, and he attended classes with children out of his age range.
"I was afraid to go to school because I did not know how the other kids would react to my looks or my accent," Smith said.
The cultural shock phase of cultural adjustment surfaces amongst all immigrants. Many experience sadness, depression and helplessness, but Smith never experienced any of that. It only bothered him when people disrespected his culture or made fun of him because of it.
"I have only cried once since I got here, and I don't think I will have cause to cry again," Smith said.
Junior Adetutu Saliu born in Brooklyn, New York, moved to Lagos, Nigeria after birth. She had always been referred to as an American, but she only ever experienced Nigerian culture. Saliu became unsure of her ethnicity, and whenever anyone asked her place of origin, she never knew whether to say Nigerian or American.
"Whenever people asked me where I was from, I always wondered if they meant where I was born or my ethnicity," Saliu said. 
Saliu became accustomed to relocation because her parents moved her from America to Nigeria three times before she returned and finally settled in Texas. She also could not fit in as normal because people in Nigeria found out that she had a famous father, Adewale Ayuba. They made assumptions about her lifestyle and family living, but moving once again gave her a chance to settle down and change the way people saw her.
"It helped me make friends easily, but it also led them to judge me in unfair ways," Saliu said.
Saliu moved because her family wanted her to achieve her goals and dreams of acting and psychology. They wanted her to prosper and did not want her to end up as what Nigerians called a local champion. They wanted her to do as they did, maybe even better. Mediocrity did not have a space Saliu's life, and so she wanted to distinguish herself.
"My parents saw that America offered more opportunities than Nigeria ever could," Saliu said.
Alex Smith in Uganda