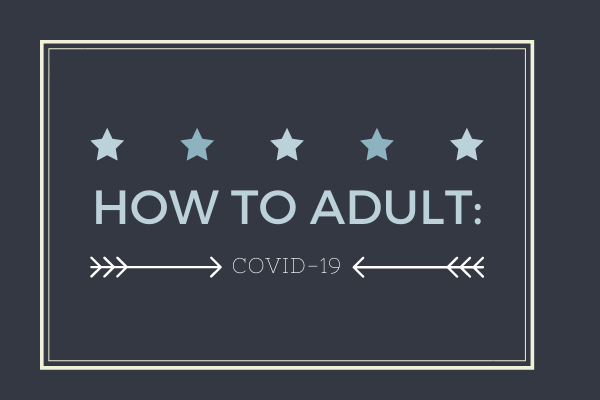 Photo by Created in Canva
How to Adult: Dealing With COVID-19
The threat of the COVID-19 virus has prompted schools across the country to cancel classes to prevent contamination among students. Mansfield ISD prolonged students' spring break for three weeks, but that does not mean more time to go out with friends or family. Here is what to do and what not to do during this time.
Do: Limit Time Outside the House
Time off school does not mean go to the movies, travel or spend time with friends. Only go out of the house when necessary, and when you do, make it worthwhile. Stay away from large crowds and urban areas, and when near someone sneezing or coughing keep at least three feet away from them. 
Don't: Inconsideration
Just because you do not think anyone you know could die from COVID-19 does not mean all empathy should get thrown out the window. People with asthma or pre-existing conditions like heart disease and older people have an increased risk of severe infection and eventually death. Taking the proper precautions to stay protected could allow someone else to hang on to their loved ones for longer. 
Do: Maintain Clean Habits
Washing hands and wiping down surfaces seems like an obvious precaution to take, but some people don't. Now more than ever, cleanliness needs to be a priority. The CDC recommends washing hands for the full 20 seconds, cleaning surfaces regularly, wiping down phones and covering sneezes and coughs to prevent the spread of COVID-19.
Do: Be Informed
Information spreads quickly, but knowing the difference between credible and non-credible sources helps people stay in the loop. The Center for Disease Control (CDC) and the World Health Organization (WHO) has the most reliable information for combatting the virus while the media like the New York Times and Fox News provides information on how the virus affects the world. Stay away from Twitter or Facebook for news unless it comes from a reputable source. 
Don't: Panic Buying
When going to the store, get supplies to last a week or two. No one needs four large packages of toilet paper for that amount of time. Baby formula and cleaning supplies should also not be hoarded because not everyone can afford to buy in bulk. Buy what's needed and only go to the store when needed. 
Do: Entertain Yourself 
Sitting at home with nowhere to go gets boring, but right now staying safe indoors helps the virus not spread more. Find a new hobby like reading, painting, browsing on The Rider Online or going for walks outside. Teachers have also begun sending out information for home learning. Studying and doing the work they assigned will help people stay busy as well. 
Donate to The Rider Online | Legacy HS Student Media