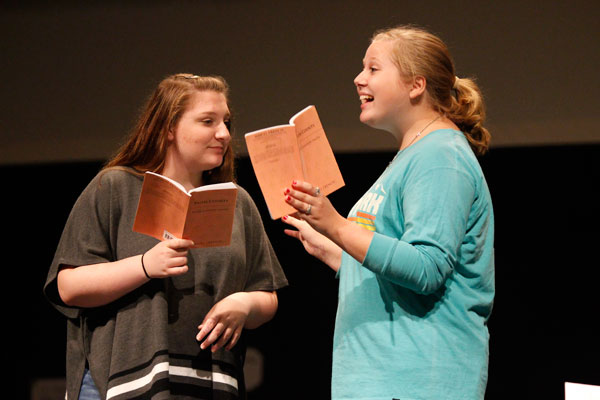 Photo by Katilyn Menting
Drama Club
Club/Sport
Drama Club
Why We Do It
"I do theater because no matter how much stress I have, every time I step on the stage I fall in love with the art all over again. It makes me forget about all the things I have going on and it makes me want to always make time for theater." Hannah Reetz, 11.
Time/Days/Where We Meet
Drama Club meets the first Tuesday of every month from 3:00 PM to 5:00 PM in the Legacy PAC.
What Other Students Think We Do
"I really think theater is basically about expressing who you are and who you can be. It's like you get to explore different personalities and get to be someone else for a change." Isabelle Ryan, 12.
What Our Parents Think We Do
"[They] think we spend all the time listening to show tunes and rehearsing 24/7." Annali Hollinger, 10.
What We Really Do
"I feel like most people think that theater is just a bunch of weird dramatic kids hanging out in the theater doing cult-like things. And that's kind of true but we do put work into what we do." Cora Lewis, 10.
Donate to The Rider Online | Legacy HS Student Media