The Doll Evolves
Mattel Releases a New Line of Barbie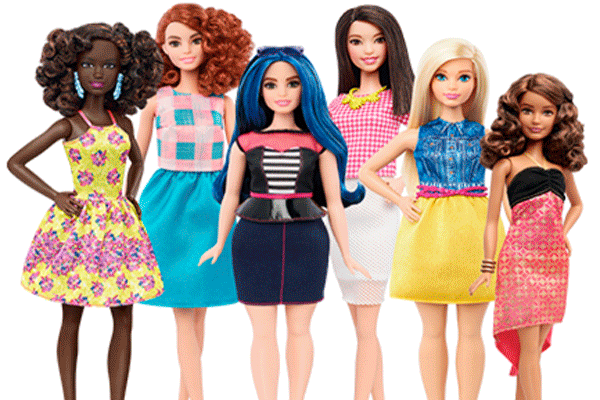 First released in March of 1959, Barbie has been a common household name in American history for decades. The iconic fashion doll's recognizable characteristics have always been blonde hair, pale skin and an impossibly slim figure; not to mention the infinite number of clothes and accessories that she comes with. They are manufactured by the toy company Mattel, and her existence is credited to the former president of the company, Ruth Handler.
Widely beloved, but also regularly under scrutiny, Barbie has been criticized time and again for her unrealistic waistline and body type. Consumers and critics have consistently expressed concern over the impact her body has on the self esteem of young women who play with the popular toy line. A chart was even made to show us what Barbie would look like if she existed in real life, and it's quite unsettling to picture as she would apparently have to walk on all fours and would be unable to even lift her head caused by her over (or under) exaggerated body measurements.
Mattel, who has previously defended their doll's body measurements and attributed them to making it "easier to dress her", came out with a surprising addition to the classic line of dolls. They announced Thursday, Jan. 28, their launch of the "New 2016 Fashionistas line" will be available within the year, and will include an array of different body shapes, skin tones, and hair textures/styles, drastically altering the doll's long history of achieving the specific "blonde bombshell-esque" look they've been going for up until now.
The labeled body types besides "Original" now include "Curvy", "Tall", and "Petite".  There are seven different skin tones to choose from, along with a 22 eye colors, 24 hairstyles, and even different style choices. The franchise has dubbed it "The Evolution of Barbie", and it even has its own hashtag for social media purposes, "#TheDollEvolves". The line is reportedly going to be released in the spring.
This is a big step for Mattel, and for the general population whether they be loyal Barbie fans or not, as it represents a shift in cultural attitude towards body shape and image. It also shows what companies can do to keep up with a changing and progressing society, even if it means changing something as seemingly concrete and iconic as the Barbie.