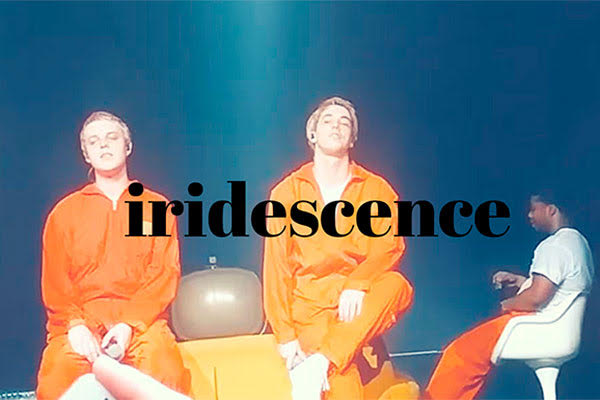 Y'all. It Happened. IRIDESCENCE dropped and America's favorite boy band returns. BROCKHAMPTON is a rap collective that's comprised of about 14 members. To name a few,  Kevin Abstract, Matt Champion, Don McLennon, Rodney Tenor and Russell Boring write, produce and sing. Before the release, the band promised this album would not sound like anything that they had created before.
NEW ORLEANS–
The collective said this would not sound like  SATURATION,  but honestly, IRIDESCENCE feels like the twin of saturation 3. So far, SATURATION 3 sounds better than this album. The aggressiveness in this song matches the tone of every B.H. album.
Rate: 5/10
WEIGHT–
Kevin, the only openly gay rapper in the collective, opens up about his experience of finding his sexuality. The melancholic style in this song mimics his own independent album, American Boyfriend, released in 2016.
Lyrics:
I was writing poems 'bout a dog and study hall
And she was mad cause I never wanna show her off
I thought I had a problem, kept my head inside a pillow screaming
Rate: 7/10
TAPE–
Typically, Brockhampton allows the music to speak for itself, letting the production encompass the song. Each fade out at the end of each song sounds amazing, but this track interludes perfectly into the following song, J'OUVERT.
Rate: 6/10
HONEY–
HONEY feels like the stand out track on this album. The style emulates N.E.R.D.'s latest studio album. The changeup at 1:40 makes me scream. This track gives me Missy Elliott vibes. It sounds different than the rest of their projects, but the album still lacks consistency and depth.
Rate: 9/10
Final Thoughts:
Overall, the album sounds almost exactly like SATURATION 3 but it did live up to the hype surrounding it. They gave fans a more alternative, indie, soft and intimate body of work.  During September, Kevin posted on his twitter that the new album would not sound like saturation, but it feels as though they threw everything together way too quickly. Brockhampton always reveals their individual truths through their art, but they never revealed what this album means to them. 
Rate: 7 out of 10.