The mass hysteria from the coronavirus becomes prevalent to Rocio Escobar, a mother of a Legacy student, as she shops for her weekly essentials at the nearest grocery store. She watches as panicked shoppers grab cases of bottled water and workers frantically try to restock the shelves they had filled minutes ago.
On March 10, Escobar along with other Tarrant County residents received news of the first documented case of coronavirus in the area. This news has also caused financial chaos including a record 3.3 million Americans filing initial jobless claims for the week of March 21. Although this hasn't affected Escobar as much, there are still a lot of families that would be affected because of the COVID-19 outbreak.
"I feel like everyone is overexaggerating even though everything is being regulated by the government," Escobar said.
As a worker at Mouser Electronics, Escobar has not seen much of a difference at work except the introduction of new preventative measures being taken by the company to ensure their employees' safety. These measures include disinfecting the workplace several times a day, work hours becoming more flexible and a daily newsletter to keep everyone updated on news related to the coronavirus.
"I felt like Mouser's preventative measures against the COVID-19 pandemic shows how much they care for the well being of its employees and their families," Escobar said.   
Sophomore Melissa Vargas has also seen the impact COVID-19 has made on the economy. Vargas's mom, who works as a maid, has been unable to work because of social distancing. Her dad has not been affected because he works in construction which has been categorized as an essential business. Although her mom does not have as much work as before the pandemic, Vargas cherishes the extra time with her mom.
"I think the coronavirus is a bit serious due to the fact that we have to be away from people and just stay home, which in my opinion sucks,"  Vargas said.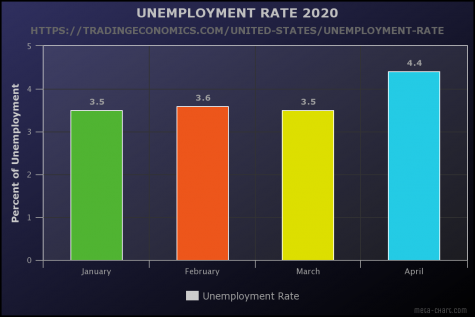 Although the virus affects how much Vargas's mom can work, her family isn't financially worried because her dad still works. Vargas said there could be a financial issue if the coronavirus pandemic continues, though. For now, her mom is more worried about the health of the family.
"People are worried about their health and are trying to avoid interactions with others," Vargas said, "It's a virus that can change the economy and the people in different ways."
Escobar appreciates restaurants remaining open throughout the shelter in place because of the time she saves just going to pick up food from the drive-through instead of making meals. She believes leaving the restaurants open will make the life of those who still work easier by providing a quick meal, but she also sees the negative side of having restaurants open.  
"I feel that having restaurants still open could cause more people to become ill since they are interacting with people every day," Escobar said.
Opposingly, sophomore Bryce McCorkle does not worry about his parents losing their jobs or becoming ill with the COVID-19 virus. McCorkle's mom stays at home while his dad works an office job at General Motors and only sees a few people a day.
"No, we aren't worried at all but it's fun watching how America reacts when something like this happens," McCorkle said, "There is no need to buy a month's worth of supplies."
Escobar also believes people should only take what they need instead of bulk buying in order to give everyone an equal opportunity to care for their families.
"We have to protect our children and only buy what is needed," Escobar said. "We should only buy what is needed in order to allow other families to provide for their children."