Out of the 2,482 students at Legacy this year, only a small percent participate in fine art electives like band and choir.
Band, choir and journalism all have lower numbers than in past years. Choir had 190 singers in the past, but now they have around 184 students. However, Choir Director Josh Powell planned different social events like breakfast to attract more students. 
"Hopefully we just keep getting bigger and bigger," Mr. Powell said. "I feel confident in our numbers right now."
The breakfast allowed choir students a chance to learn about one another and have the opportunity to spend time together outside of choir class. Kathleen Rose attended a choir park social where people were offered to bring their friends. 
"I'm normally a pretty anti-social person," Rose said. "[However], with my friends there I had a great time."
Band normally performs with 160 to 170 students a year, but this year they have 135. Nine freshmen joined the band which contributes to the low student count. Band Director Andrew Nance actively recruits students from the middle schools. There's a recommendation for students to have past band experience if they wish to join. Mr. Nance continues to visit middle schools in an effort to increase his numbers.
"You don't get mad at a storm for coming through," Nance said. "You kind of just see it and brace for it."
Journalism Adviser Leland Mallett normally replenishes numbers through recruitment at Linda Jobe Middle school's yearbook program and English classes. But because of COVID, Mr. Mallett and Mrs. Dearinger have not been able to recruit at middle schools. Two years ago, 7
4 students created content for Legacy Student Media, but the current count is 51. Both intro journalism classes, Journalism 1 and Photojournalism 1 have low enrollments of 20 each. These classes have been as large as 60 in past years.
"It's kind of disheartening," Mr. Mallet said. "It makes me worried for the ones that are here [and] that they have to do more work to a point where they will get burned out."
Now that Journalism can return to middle schools, Mr. Mallett and Mrs. Dearinger look for ways to actively recruit throughout the year. In past years, photo students have sponsored a photo club at Donna Shepard Leadership Academy as well as visited with Jobe's English classes and with the middle school yearbook staff.
"COVID has made us think outside the box for recruiting to the program," Mr. Mallett said. "It's a challenge we've accepted, and we're excited to get our numbers back up."
Although certain freshmen plan to not pursue the fine arts, other freshmen like Rain Maakestad want to continue their classes. Maakestad takes art at Legacy and graphic design at Ben Barber. Both of her parents took fine arts classes in colleges such as painting and art business.
"My life is kind of surrounded by them," Maakestad said. "I [have] to do a career that involves art in one shape or form."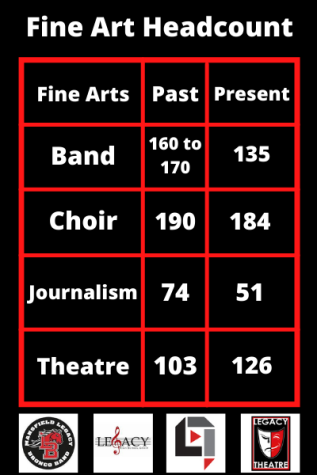 Counselor Dana Vorsino takes part in the creation of student schedules every year, however, she is unable to offer everyone the option to do whatever fine art they want.
"It's difficult giving everyone the elective they want," Ms.Vorsino said. "Unfortunately, Band and Choir are performance-based, so I have to make a hard choice in putting them in art or theatre."
Legacy's overall student enrollment is up. Because of a fine arts credit to graduate, fine arts teachers wonder where students gain their required fine art credit. There is a small increase in theater numbers and art numbers are higher than normal.
The numbers have increased so significantly in theater that Jeremy Ferman took on another Theater 1 class which forced him to combine all his tech classes. Theater worked with 103 actors and actresses last year and their current headcount continues to increase to 126 students. Mr. Ferman isn't stressed about this change and he hopes to recruit more freshmen through afternoon programs. 
"Even though some of them are there for credit we can grab most of them," Ferman said. "I'm just brushing off the dust and pulling up the new [material]."
Although a majority of the fine art programs have a low headcount compared to years before, all the classes continue to try different recruiting methods. If these methods succeed some of the students may choose to stay.
Because of the fine arts requirement for graduation, art classes tend to remain full. Freshman Cade Julius did not take any choir or band in middle school, therefore he felt the need to pick between art or theater in high school.
"Art was my best option," Julius said. "I think a lot of freshmen are in fine arts for the credits, but some take the classes because they like them."
Julius plays sports outside of school which includes baseball and basketball. Julius doesn't play for the school because he prefers to play in an outside league. He plans to continue his current electives.
"Nothing really keeps me at home," Julius said. "I'm just not that interested [in any fine arts]."