Sarah Palin Endorses Donald Trump
The following story ran first on The Politician, the political newspaper of The Rider Online. Check The Politician often for updates on the upcoming 2016 presidential election as well as other political news.
Former Governor of Alaska and 2008 vice-presidential nominee Sarah Palin officially announced her endorsement of presidential candidate Donald Trump in Iowa on Tuesday, Jan. 19. With the Iowa caucus set to for Feb. 1, her support comes at a seemingly ideal time for the Trump campaign. This endorsement could attract the attention of Republican voters away from Ted Cruz, who has been gaining more ground recently after Ben Carson dropped in the polls.
Palin's endorsement did not come as a huge surprise however, as Trump hinted at a "major announcement" featuring a certain "special guest" for his rally in Iowa, leaving people in suspense. There were also rumors of the guest being her in response to flight records revealing a plane flying from Anchorage to Des Moines just a day before the rally.
Palin, who has previously advocated on behalf of Ted Cruz, made no mention of him throughout the duration of her speech. Ted Cruz took to Twitter to express his feelings towards the rumors of Palin's endorsements before they were confirmed at the rally, offering no feelings of resentment. He tweetedhis gratitude for Palin's support and despite who she endorses he "will always be a big fan".
Ted Cruz's spokesman Rick Tyler went on CNN the day Palin's endorsement was confirmed and addressed the rumors. He stated that if Trump's endorser did end up being Palin that he would be "deeply disappointed". He also remarked that he thinks politically backing Trump could be a "blow to Sarah Palin".
Palin's strange 20 minute speech contained many "Palinisms" such as "drill baby drill", "goodness gracious" and even at one point asking the crowd if she could "get a Hallelujah", in response to Trump being "from the private sector" and "not a politician". She credited Trump's success so far to his "going rogue left and right", and his ability to "tear the veil off this idea of the system". She even remarked that "[Trump's] candidacy, which is a movement, it's a force, it's a strategy".
Palin concluded her "stump for Trump" address with an emphatic "God bless the United States of America and our next president of the United States, Donald J. Trump!".
About the Contributor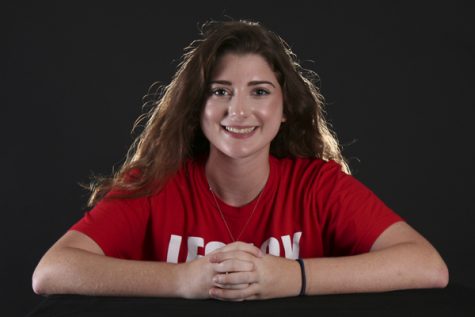 Rebekah Rosenstein, Staff Writer
i want my bio 2 just be "Get crazy with the cheese whiz." - Beck