Musical Theater Spreads Christmas Cheer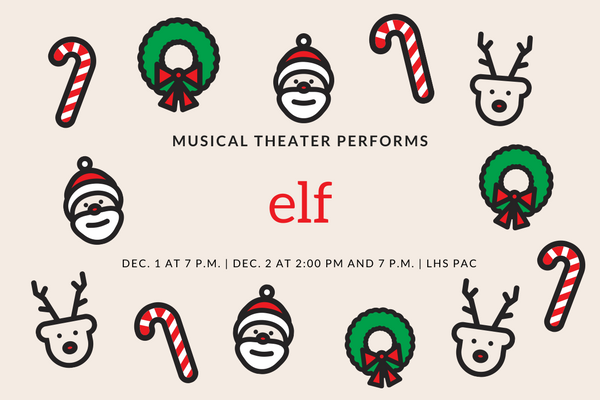 "The best way to spread christmas cheer is singing loud for all to hear."
After hearing this quote, a picture of Will Ferrell dressed in a green elf costume in the middle of Gimbels might come to mind from the movie Elf. However the Legacy Musical Theater class will perform the holiday story on stage as a musical.
Elf Jr. the Musical will show on Friday, Dec. 1 at 7 p.m. and Saturday, Dec. 2 at 2 p.m. and 7 p.m. in the PAC. Tickets cost $5 and after the show, children can take pictures with Santa and Buddy the Elf. Theater teacher Heather Alverson directs the show.
"It's a musical that deals with acceptance, loving who you are and family," Ms. Alverson said.
Elf the Musical follows Buddy, played by sophomore Austin Wright, as he travels to New York City to find his biological father after living as an elf his entire life. Through the show, Buddy helps discovers his family, meets new friends and spreads Christmas cheer everywhere he goes.
"Performing an old christmas movie as a theatrical production has been amazing and very nostalgic," Wright said. "I would like the audience to feel the the fond childhood memories even as an adult through a youthful musical. Feeling Christmas spirit in the heart."
While the title of the show remains the same as the movie, differences appear throughout the story. Scenes from the movie will not occur on stage.
"The main thing I want the audience to get out of this experience is their student's progress that they will be applying on stage," Alverson said. "Since there parents may come, they may get to see them break from their shell and see how much they have learned from being in my class."
For the first time in school history, the musical theater class will perform a full musical open to the public.
"The amount of effort put into this show is beyond anything I have ever seen, even in choir," Wright said. "And I have sung eight songs in a hour and a half a day. I am very thankful for this experience."