Teachers Paint Bowls In Preparation For SouperBowl
Tupperware filled with different colors lined the long black table in H103. Mr. Shane Skinner, one of the art teachers, wipes down brushes and welcomes teachers and administrators into his classroom of overflowing art. Pottery, figurines, posters, markers, aprons and paint supplies fill the space around the room. 
Mr. Skinner wanted to throw the event for teachers to have a bowl prepared for the annual 'Souper' Bowl Luncheon on Feb. 11. Teachers and administrators bring different types of soup to enjoy together. Mr. Skinner's intentional thoughts prepared them for the party but he also wanted them to have a time set away from the usual school stress. 
Ms. Julie Gross sits at one of the tables, painting her small ceramic bowl that sits on a turntable. Her big brush cascades around the bowl in a light blue color as she talks to Ms. Pamela Pinkerton, the librarian. Ms. Pinkerton also has her bowl on a turntable and paints a blue stripe around it. 
They discuss their procrastination on doing work to come paint, a fascination with art and whether or not they could be good at it. Mr. Skinner chuckled at their remarks and pointed to his screen on the whiteboard which showed different inspirations on bowl painting. Ms. Gross nodded her head in admiration and continued to use her brush to softly color the inside of the bowl. Further down the table, Ms. Janet Manning, attendance clerk, swarmed her bowl in a monotone pink. 
"What is the best one to do?" Ms. Manning said and held up a couple of brushes with different ends.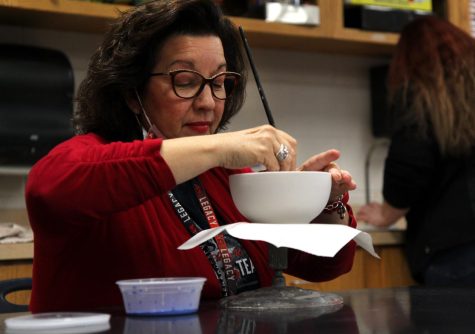 Mr. Skinner came to her side and examined the efficiency of each brush. With her desire to create a line of polka dots at the bottom of her bowl, Mr. Skinner picked out the small-tipped brush to help create tiny, seamless circles. 
Ms. Gross and Ms. Pinkerton continued to discuss their lives with one another. They talked over their classrooms, how Ms. Pinkerton's daughter now will become a doctor in December and how painting is therapeutic for them. 
"Blue is definitely my favorite color," Ms. Gross said. 
She goes on to explain how blue is peaceful and calming. As a child, she got to choose her own shag carpet color and she picked a blue and white mix. All of the teachers laugh at the memorable story and continue to paint their bowls, turning them on the turntable to cover all sides. 
Making the rounds and checking on all of the artists, Mr. Skinner marvels at their creative pieces. They finish their bowls while laughing and talking without the stress of school weighing them down.