Keeping Score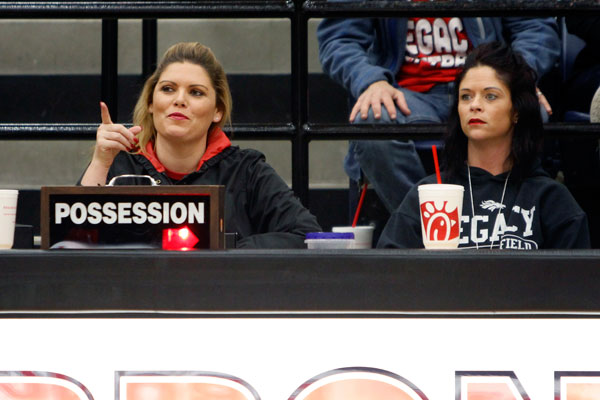 For ten straight seasons, FALS teacher Ms.Schroeder and Counselor Ms. Dana Vorsino have voluntarily ran the scoreboard at every home basketball game. They've seen every basket that's been made. Every game that's been won or lost. Everything from nail-bitters to blowouts. Both women have their own reasons for volunteering. Ironically, they never met prior to working basketball games.
"At the games, Ms.Schroeder is my partner in crime," Ms.Vorsino said. "We first met at the score table, and since then, we have become great friends."
At the basketball games, Ms.Vorsino runs the clock, and Ms.Schroeder runs the score book. Every point scored, Schroeder records it in the score book. Ms.Schroeder has a coaching background, so she decided to stay near sports and operate the score table. Ms.Vorsino also played sports in high school.
"I decided to work at the score table because I played volleyball and basketball in high school, so I have always loved sports," Ms. Vorsino said. "I love watching the competitiveness and skill level that a high school game provides."
After the end of last basketball season, head boys basketball Coach Marchie Murdock left to take a counseling job at Summit High School. So during offseason, Coach Cornelius Mitchell was hired to replace Murdock.
"When Coach Mitchell got the new job, Vorsino and I went and introduced ourselves to him, and we told him what we do at the games," Ms. Schroeder said.
Now, after ten seasons of working together, both women would say they not only have grown closer to each other but grown closer with the coaches.
"Ever since we've started working together, we grew closer to where I helped plan her bachelorette party, her engagement, and I helped out with her wedding," Ms. Schroeder said. "We definitely have been brought closer."
"My favorite part about running the score table would be getting to work closely with Ms.Schroeder and all of the Legacy coaches," Ms. Vorsino said. "I have developed a great relationship with all of them."