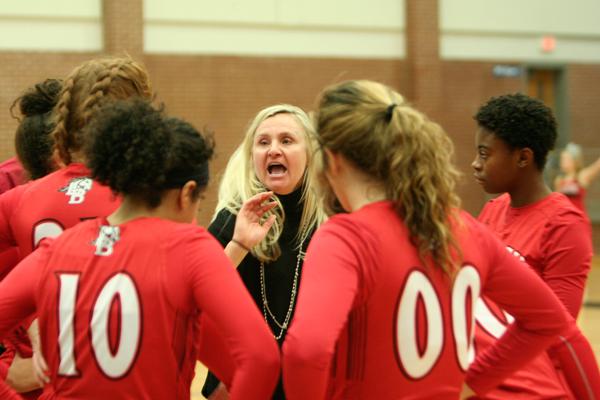 The buzzer sounds. The game is over. The girls varsity basketball team hang their heads after losing to Summit. Frustration in the air, but no words to express it. The team eats another loss and are walking on thin ice for a spot in the playoffs.
With a little over half of the season in the books, the Varsity Girls' Basketball Team hasn't seemed to fit the mold of their true selves. The team finished the regular season last year with a 24-12 record and this year with three starters returning, the team has gotten of to a slow 10-14 start this season. But Head Coach Michelle Morris acknowledges they've had some struggles, but anticipates change.
"We struggled defensively, with our defensive rotations, and we need to trust the process and each other more," Morris said. "But it has made us even more hungry and we know what we have to do to get the job done."
The team has had it's ups and downs this year starting out 6-2, but then losing Senior starting Forward Marlissa Morris to injury. Since then, the team has been on a rocky road going 4-11 overall, but Coach Morris believes if they play with discipline, good things will happen.
"We played inconsistently the first part of the season, we just need to focus," Coach Morris said. "I believe if we stay focused and play consistently going all-out for 32 minutes, we can beat any team in the district."
The team has played 23 out of their 29 game season and still have a shot to make a run for the playoffs. A late season surge needs to happen to pull it off, and Morris knows her girls can get it done.
"This last half of the season will be a complete turnaround. We are all competitors, and I know these girls are hungry to win," Coach Morris said. "Whatever it takes, these girls will get the job done. I believe in them."