Swim Teams Make Region
Nick Gross, Sports Editor
February 3, 2012|375 Views
Both the boys and the girls team competed Jan. 28 at district. The boys' swim team won the district title and will advance to region on Feb 10. The girls' team will also advance to regions, placing second at district.
"We were excited," Drew Larimore said. "After the win we went to Ihop for a classic team celebration."
Larimore competed in the 100 Butterfly and the 500 Freestyle. He placed third in Butterfly and fifth in Freestyle, advancing him to regionals in both events.
"It felt good to be on the podium and win a medal," Larimore said.
Along with Larimore, Jon Paul Canclini, Clark Blanton (100 Free and 50 Free), Sam Spoonmore (100 Free and 50 Free) and James Copeland (100 Breaststroke) all placed. For the girls team, Morgan Ingle placed first in the Individual Medley, and Madison Yelle placed second in the 200 Free and the 500 Free. Maria Castillo placed fifth in the 100 Fly and sixth in the 500 Free.
"I was satisfied," Castillo said. "I was planning to go faster at regionals."
Both teams hope to end up winning and sending as many swimmers to state as possible. Along with the relay team, numerous swimmers are seated in the finals, including Larimore, who is competing in regions for the third time this year.
"I'm really excited," Larimore said. "Third time's the charm."
[nggallery id=25]
About the Contributor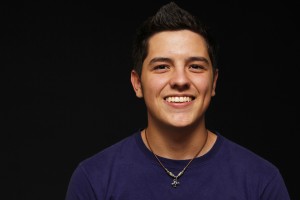 Nick Gross, Sports Editor
Hi, my name is Nick Gross. I am the Sports Editor this year. I love sports. My favorite sport has got to be baseball. My favorite team of course is the...