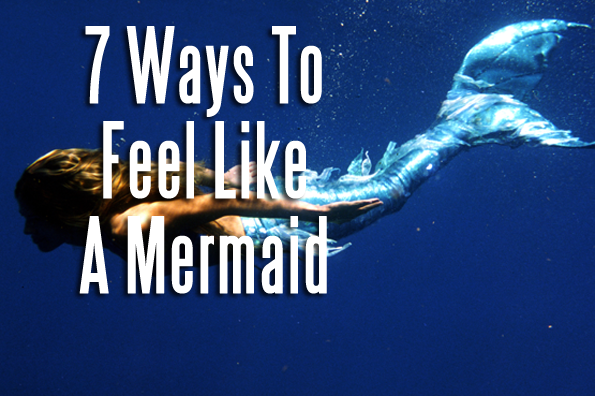 Ladies, I know how it feels to wish that we could all be mermaids. I mean, who wouldn't want to swim for hours on end with the dolphins without the burden of an oxygen tank or life jacket? Mystical and unexplained powers, the ability to talk to fish and going on midnight swims whenever you feel like it possibly sounds like the greatest thing ever. Here are some tips on making your fantasy a reality.
Don't hold your nose
If you had to teach yourself how to swim, as I did, then there's a possibility that you hold your nose. If you haven't already done so, you should learn to swim without holding your nose. This way, both of your hands are free for mermaid things.
Keep your legs together
If your thighs touch, you are one step closer to being a mermaid. When you're swimming, kick with your legs together, as if they're one part of you instead of two. This is how you can have a "tail." You're one step closer to being fabulous.
Hold your breath
Obviously, now that you're a mermaid, you have to know how long you can hold your breath and extend that time if you can for a better and longer underwater experience. Breathing exercises can help you extend the time that you can hold your breath.
Arms out front
When you swim, your hands should be out in front of you, not at your sides. In almost every mermaid movie I've ever seen, the mermaid has her hands over one another and move them in a wave motion to help underwater movement.
Eyes open
If possible, swim with your eyes open. A mermaid is used to having her eyes open under water. If you close your eyes, the experience might come to an abrupt stop when you hit your head on the edge of the pool or find yourself swimming into a sand pile.
Smile
You're a mermaid now, so smile at the kids that you swim past. Remember, you can't breathe under the water, but you can smile occasionally.
Use your imagination
Maybe you don't yet think you're a mermaid. That's alright. Just use your imagination and have fun.