Legacy Stronger Team Over North Forney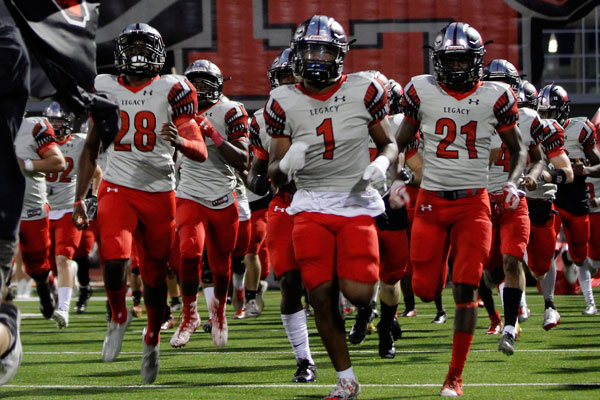 Legacy cruised through the first two rounds of playoffs and into round three, perhaps this week may be a worthy opponent and finally give the Broncos a real test. The North Forney Falcons are 10-2 with losses coming from Legacy's most hated, Highland Park and Lucas Lovejoy.
Previously, the Broncos have outscored their opponents 108-10 in the playoffs. North Forney outscored their playoff opponents 110-41. North Forney Quarterback and ULM Commit, Colby Suits has an impressive resume having thrown for 3223 yards this season. On paper, North Forney is the best team Legacy has played all season. In fact, North Forney leads all of 5A in most points scored with 649 on the season.
However, District 15-5A isn't well known for defensive play, and North Forney gives up an average of 31.83 points per game while Legacy just gives up 18.5. North Forney gives up a lot of points with poor defensive play but every team has their way of winning games and North Forney has won by outscoring their opponent.
Legacy, coming from the "district of doom" has played teams better than North Forney all year, and I don't even think North Forney would make playoffs in Legacy's district. All four teams from 10-5A are still playing in the playoffs, a feat that no other 5A school in the state can say about their district.
Being on the football team, we watch a lot of film over our opponent. And after watching North Forney and analyzing their team, they haven't played a defense quite as good as Legacy's all year which hints why North Forney's offensive stats are really boosted. Their quarterback can play, and their receivers don't drop open passes. However, our defense will play lights out and make them struggle to get into the end zone. And on the offensive side of things, if the Broncos execute, North Forney defense won't be able to stop the Broncos. The Falcons defense lacks speed giving Legacy an advantage.
Another advantage the Broncos have is experience. They've been to the third round last year. This Saturday will be North Forney's first time playing in the regional quarter-final game. But this is Texas Football, and no opponent can be overlooked, or taken for granted, no one can win a game without outscoring the other team.
The Broncos will play at Eagle Stadium in Allen, TX, on Saturday, Dec. 2 at 2 p.m.