Kinzie Wilson: A 330 Horsepower Hobby
Kinzie Wilson remembers going from the passenger's seat in her father's car to the driver seat in the 1996 Chevrolet Corvette Silver Collector's Edition that she purchased with her own money.
"I feel invincible because I'm controlling horsepower," Wilson said.
Her father's passion became her hobby, and now Wilson works toward becoming a professional drag racer. In her first race, Wilson dialed in her expected race time as a beginner. During the race, she went faster than that time causing her to lose the race. However, Wilson did not go away discouraged. She went away fascinated by her speed wanting to do it again.
"I didn't really know what to expect. I didn't expect to get first place on my first race, but I didn't feel defeated when I found out I lost, because I had never raced against someone else before." Wilson said. "The feeling was just so cool to know that I went too fast was kind of cool too. Knowing I could go faster made me more comfortable on the track against someone else."  
In a short amount of time, Wilson proved herself as a phenomenal racer. In 2015, she began in a class full of boys which made her feel unsuitable to become a good drag racer.  After her first race, Wilson knew that she, like the rest of the students in her class, qualified drag race.
"They had all been there longer, and they were boys. At first I thought 'OK this is going to be really hard,' but after a lot of practice, I was getting better than most in my class," Wilson said.
Wilson's father played a role throughout the development. For three years until she legally could ride by herself, her father had to accompany Wilson in the vehicle. Her dad served as her encouragement throughout the developing process. Wilson would share through social media her wins, and her father would share the posts.
"He would usually tell me to calm down and 'OK, you got this, keep doing what you're doing,' I just tried to listen to him," Wilson said.
It didn't take long for others to notice Wilson's capabilities. Soon she began getting sponsored by foundations such as Rio Mambo, First National Bank and 84 Lumber. She would also like to team with one of her favorite dragsters Top Fuel which she finds appealing because she believes it works the best to her preferences in speed.
"I'm obviously not going to go from a Corvette to a Top Fuel dragster, but I want to work my way up and eventually get there," Wilson said.
Last year, Wilson lost a race by one point. Once all of her wins and loses added together, she realized she would not compete at finals for the season. However, that did not discourage her from continuing to pursue her goals. After her loss in 2016, she went on to win the entire season of 2017 with diligence and effort.
"My greatest moment was when I won the season and bought my own car," Wilson said. "I had to slow my car down last year for my class because it was too fast."
Wilson surrounds herself with a variety of dangers such as crashing into other cars and vehicle malfunctions. Each time she races she never feels the negativity. From racing, she has learned one lesson she deems truly valuable.
"Never say no to trying something," Wilson said. "If you don't like it then you don't do it again, but definitely try something once."
About the Contributor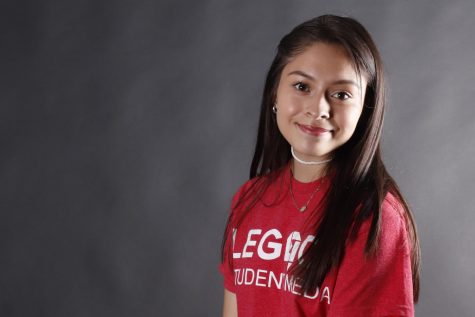 Melissa De La Cruz, Personalities Editor
Hola amigos, my name is Melissa de la cruz Sanchez and I like to make friends. My life motto is "surround yourself with smart people because even if...