Stacie Morton: Making State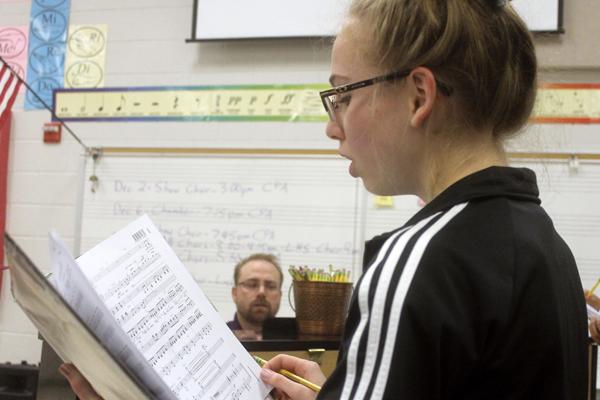 Sophomore Stacie Morton takes her position in front of the judges. Nerves stir up butterflies in her stomach, but there's no turning back now. She's done this before and advanced to state. It's time to do it at the final audition stage. Morton inhales a deep and wishful breath and lets her voice do the rest.
Morton recently placed sixth chair in the All-State Treble Choir. On Jan. 13, She auditioned alongside junior Mckenna Collier at the University of Texas at Arlington. Upon arriving at UTA, Morton realized this moment easily marked itself as one of the biggest in her life.
"I was very surprised to make it, but no one else was," Morton said. "My parents and my teachers knew I could do it."
When Morton arrived at UTA, tears welled up in her eyes. Auditioning for a spot at State became a huge deal for her, and she didn't think she could do it.
"I calmed down a little once I saw the only other person from Legacy there, Mckenna Collier," Morton said. "Somehow it calms my nerves when other people are feeling just as anxious as me."
Morton challenged herself to practice four to five times a week for an hour each day, participate in voice lessons on Wednesdays, attend group sectionals on Fridays and learn a total of 12 songs, all while juggling various school activities at the same time. She quickly realized auditioning became something that would take over her life, so she wanted to put in her best efforts.
"I wasn't nervous most of the time, because if I didn't make it I, didn't want to be upset with myself," Morton said. "I find that it is best to put forth your best effort during the actual audition and to let it go afterward."
She didn't do it alone. Morton's support system, behind her at all times, only strengthened the determination she already had deep inside herself. She received words of encouragement along the way. Morton remains grateful for her parents' and extended family's support.
"Even if you are trying your best, it's hard to do anything well without a good teacher," Morton said. "Thankfully I have a phenomenal voice teacher, Dr. Scott Ferrell, and an equally impressive director here at Legacy, Mr. [Josh] Powell."
Mr. Powell constantly helped to uplift for Morton throughout the season. Before the auditions, he texted Morton and Collier words of encouragement.
"You've both worked incredibly hard and I'm proud of what you have accomplished," Mr. Powell sent in the text. "Enjoy the process, do your best, and the rest will be what it will be."
Lettering in choir remained a main goal for Morton. By making state, she accomplished that dream.
"I felt intimidated when the soprano ones went to sing the cuts together, and I saw many of them wearing letter jackets with huge All State Patches on the back," Morton said. "I really wanted to letter in choir. By making All State I was able to do just that, and I also got plenty of patches on the way to State."
Still, Morton admits to her flaws as a singer during this particular competition. She allowed the thoughts of doubt and even regret sink into her head, but her overall performance blew her critics away.
"I could've definitely sounded better if I had still been warm," Stacie said. "I also messed up a little bit on the sight reading. Because of this, I didn't think I had a very good chance at making it in."
Morton always had a passion for singing, and in her younger days, both of her parents sang in the church choir. Morton attributes a large amount of her talent to her grandmother, Victoria Morton.  
"My grandmother on my father's side, Victoria Morton, said that she could tell I was going to be a singer from the day I was born," Morton said. "She has always encouraged me to use my gift."
Morton has not only ranked among the best in State, but also in many other choir competitions. At her first All-Region choir competition in seventh grade, Morton placed first chair. She placed fifth chair her eighth grade year, and despite the drop, Morton didn't let it stop her from rising back to the top.
"Last year, my freshman year, I did not move on to the third round but, I made it into District choir," Morton said. "For me, All-State is the next step in vocal competitions."
Morton sees her choral abilities at the forefront of her future. Practical dreams plague her mind, but she also craves to let her spirit run wild and explore different paths of success.
"I plan to be a Nurse Practitioner after college, but I may change my mind and decide to pursue a career in vocal performance or music education," Morton said. "But I'm definitely staying in choir for the rest of high school, and I will continue doing All-State."
Morton transforms the encouragement she received into impactful words for other aspiring vocal performers in choir. She urges constant practice and minimal stress on the day of auditions.
"Your chair number does not determine your singing ability," Morton said. "There is always room for improvement."
Whenever Morton sees someone singing on stage, she thinks of how she could perform the song better, or how she could reach their level vocally. She constantly seeks out ways to improve her vocal ability. She delights in competing because she loves to learn new music and measure up with other people with whom she shares the same voice part.
"I have heard that practice does not make perfect, only perfect practice makes perfect, and I tend to agree with that," Morton said. "I think that anyone wanting to be an All-Stater can become one with determination, practice, a great instructor, and a little talent.
About the Contributors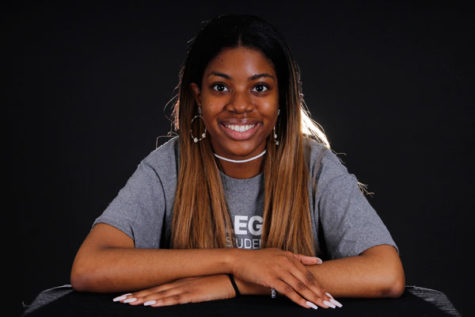 Benita Orie, Staff Writer
Hi, I'm Benita. I'm a senior, and this year's Yearbook Copy Editor. Read our online newspaper, please and thanks.

Life is amazing, it is what it should...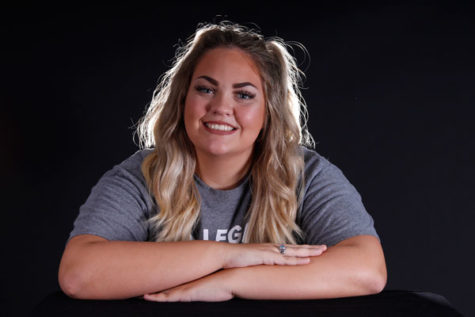 McKenna Collier, Photographer
Hi, my name is McKenna. I take photos for Legacy Student Media. I love to sing, dance and do makeup. Romans 12:2