Best New Music: January/February 2018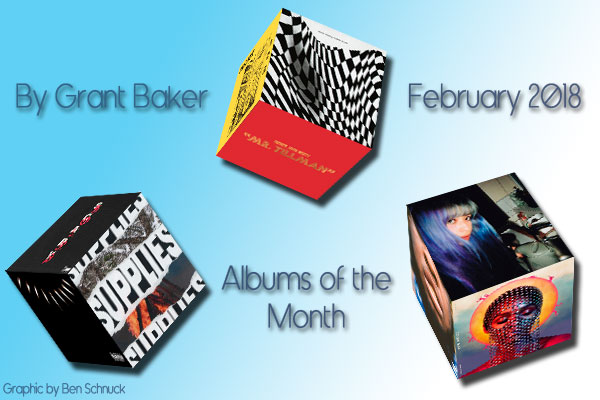 (A Spotify playlist for all these songs can be found at the bottom of this article. Hope you had a great start to 2018!)
2018: New year, new music. Here are the best releases from January and February of this year:
Car Seat Headrest – Cute Thing
Will Toledo and Car Seat Headrest released what is sure to be an album of the year contender with "Twin Fantasy," a complete remake of his 2011 album of the same name. "Cute Thing," a standout track from the remake, is a full-blown radio rock hit. Its chorus is instantly recognizable, the lines are quotable ("God, give me Frank Ocean's voice and James Brown's stage presence") and the thrashing guitar solo in the middle makes for a memorable song on an album full of unforgettable songs.
Mr. Tillman – Father John Misty
Josh Tillman, aka. Father John Misty returned late February with "Mr. Tillman," a welcome change from his 2017's "Pure Comedy." Closer to his debut album "Fear Fun," Misty drops the doom and gloom of his last project in favor of a more optimistic, dreamy approach. The divisive irony in his music is still very present as Tillman tells the story from the perspective of a hotel employee checking him in. It's a great listen, and hopefully, we'll have more to hear from the folk rocker very soon.
Drake – God's Plan
Toronto MC Drake can't help but write hits. It's just kind of a fact by now. "God's Plan" is no exception. It's instantly quotable (She said 'do you love me?'/I told her 'only partly, I only love my bed and my momma, I'm sorry'"). The music video is great. It's Drake.
Palm – Composite
Philly art-rockers Palm aren't known for amazing technical skills. They don't have trained, world-class musicians, but what they lack in skill, they more than make up for in fun. "Composite," the third single from their new album "Rock Island," is an off-kilter, experimental mess that sounds like The Beach Boys thrown in a blender (in the best way possible). Lead vocalists Eve Alpert and Kasra Kurt both take heavy inspiration from B, but the experimental instrumentation falls in line closer to someone like Animal Collective or Xiu Xiu If you enjoy the song, definitely check out the rest of the album. You might be surprised at how much you like it.
Janelle Monáe – Make Me Feel
R&B singer/actress Janelle Monáe made her triumphant return to music, releasing "Make Me Feel" and "Django Jane." Hearing "Make Me Feel," the sounds of Prince immediately crash into the listener, which makes sense because he reportedly worked on the song before his death. It's a funky, synth-heavy song that sounds as if it could be lifted straight from "1999," and if it's any indication of what's to come, Monae could be coming with an album of the year contender.
Justin Timberlake – Supplies
Justin Timberlake's new album "Man of the Woods" is not worth your time, but "Supplies" definitely is. It harkens back to the days of "FutureSex/LoveSounds," which is great, because it's as far away as possible from Timberlake's new music. Produced by The Neptunes, it has an infectious beat and an even more infectious hook. Not every song can be a winner, Justin. Actually, most of the songs on this album aren't winners. But "Supplies" is a winner.
Kero Kero Bonito – Only Acting
Indie electro-pop group Kero Kero Bonito have captivated the internet for some time since the release of songs like "Flamingo" and "Sick Beat." With "Only Acting," the group takes a step in a new direction, shedding the slick electronic production of their previous work in favor of more guitar-heavy style. Lead singer Sarah Midori Perry still provides the squeaky clean vocals she's known for, which becomes reminiscent of 2000s pop-punk artists like Avril Lavigne when paired with the electric guitars and booming drums. The song ends in complete chaos unlike anything the band's done, and it'll be interesting to see if the band continues this experimentation with their next project.
SOB x RBE & Kendrick Lamar – Paramedic!
2018 is the year for Bay Area rap group SOB x RBE. Their cut with Kendrick Lamar from the Black Panther Soundtrack, "Paramedic!" will hopefully kickstart their young, promising careers. The DJ Dahi produced beat is noisy and hard-hitting which fits the group's slippery vocals. This along with the group's new album "Gangin" (go check out "Carpoolin'" which nearly replaced this song on the list) are great signs that SOB x RBE won't be going anywhere.
Maxo Kream – Pop Another
Houston rapper Maxo Kream released a solid debut album this January with "Punken," an ode to the city that raised him and the struggles he's been through. One main stand out from the album is the Teddy Walton-produced "Pop Another" which features one of the best trap beats in months. Sampling Tame Impala's "Reality in Motion" gives Maxo an opportunity to rap about debauchery, spitting references to everything from Tony Romo to Anne Frank to John Madden. It's a psychedelic, hypnotic banger, and we can't wait to see what Maxo Kream will do in the future.
Beach House – Lemon Glow
Dream-pop giants Beach House return with their new song "Lemon Glow," supposedly ahead of a new album coming this spring. It's more of the same silky-smooth rock that's dominated Tumblr pages and album-of-the-year lists for more than a decade. That might be a problem for less talented bands, but Beach House has such a firm hold on the dream-pop/shoegaze genre that they can't help but release bangers every time. If you like Beach House, you'll enjoy "Lemon Glow." If you don't like Beach House, this probably wouldn't change your mind.
Frank Ocean – Moon River
The legendary R&B singer returned Valentine's Day night with a cover of Audrey Hepburn's "Moon River" from the classic 1961 film Breakfast at Tiffany's. Ocean's soft vocals manage to make an equally emotional punch as Hepburn's did. Musically, it sounds like a nice blend between his two previous projects "Endless" and "Blonde." It's Frank Ocean. You know it's going to be good. What more can we say?
MGMT – Me and Michael
New England indie-rock duo MGMT were pioneers of the 2000s with songs like "Electric Feel" and "Time to Pretend." But since that original debut album, "Oracular Spectacular," it's been hard for them to replicate the same critical or commercial success. But with their latest project "Little Dark Age," the band officially makes their comeback with a wonderful 80s-inspired synth-pop album. "Me and Michael," a highlight of the album, is a warm homage to decades long gone. The plucky synths and wavy guitars sound more fitting on the soundtrack to Dirty Dancing than on an indie album made in 2018, but that's definitely not a bad thing.
About the Contributor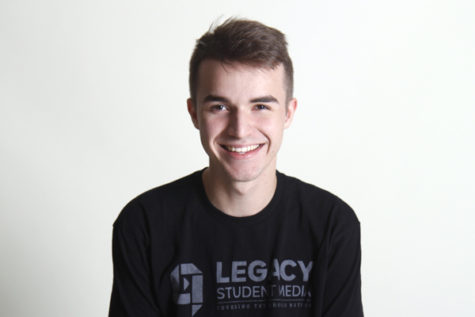 Grant Baker, The Rider Editor-in-Chief
I'm Grant Baker and I write for this website. I love serving God, watching football and listening to 2000s southern hip hop. Maybe not all of those at...