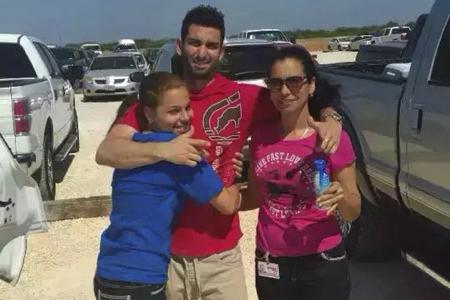 Photo by Courtesy Photo
Surisaday Sanchez: Overcoming the Language Barrier
May 2, 2018
Sophomore Surisaday Sanchez reminds herself every day to remain confident as she walks through the main doors of Legacy. Although Sanchez acts like any other student, one thing separates her from a large percentage of students. The Language Barrier.
"I haven't been able to adapt a lot [especially] here at school," Sanchez said. ''I don't really understand anything, so it's much better when I'm in this [ELL] class where I can communicate with others."
Sanchez enrolled at Legacy at the beginning of the year. In June, she became a new immigrant to America. As a young girl from Cuba, she decided to change the course of her future for the sake of her family. Sanchez missed her father and brother who lived in Texas, so she and her mother and immigrated to join them.
"I told my mom that I wanted to come here [to America] to be with my dad and brother, but she wasn't fully convinced," Sanchez said. "When we lived in Cuba, I would tell my mom that when I was older I was going to come here, but she would tell me that I'd leave her all alone in Cuba so we both left together."
When Sanchez first commenced her journey, her emotional and mental stability suffered a dramatic change. As her best attempts to integrate into school and American culture failed every time, Sanchez confessed that at her worst times during school hours, the tears she sobbed out of frustration became her only friend.
"My first problem was the language and then the size of the school since I would always get lost," Sanchez said. "I couldn't ask for help since no one around me knew how to speak Spanish, and I would always sink into the ground and cry."
Even when the odds were against Surisaday, she always found a way to communicate with others, especially when it came to her teachers.
"In some of my classes, my teachers tried speaking in Spanish to me or used Google Translate most of the time," Sanchez said. "They always tried their hardest so that I could get the information that I needed."
Outside of school, things remained the same for Sanchez; the same sour feeling of incompetence followed her everywhere she went, whether she found herself inside of a store, ordering food or simply reading labels.
"When I'm at a store and I want to ask something, the person helping me may ask me questions which I cannot answer," Sanchez said. "The same thing happens when I try ordering food somewhere. Everything seems so complicated. It's like staring at an empty black hole."
Although the beginning seemed rough, her determination and willpower have led to a brighter path. Surisaday admits that even now she continues to have complications with the language barrier between her and the world around her.
"It hasn't been easy, but I would like to believe that one day I'll conquer the English language," Sanchez said. "I think it will benefit me and my future and I would like to take what I learned here back to Cuba."