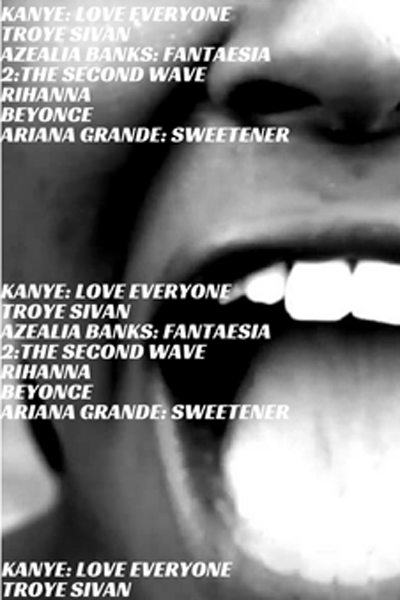 2017 was a great year for music, but I can tell that these artists might wild out. Lets get it.
Kanye-
Kanye, Kanye, Kanye. After all this controversy that he started on Twitter, TMZ and his affiliation with Donald Trump, I am interested to know what he's cooked in that studio of his. Contrary to popular belief, I can tell that his album will be light-hearted and familiar to the "old Kanye" y'all love so much. LOVE EVERYONE, will become his most intimate and breathtaking pieces of art yet.
Rihanna-
2018 holds potential for Rihanna and her endeavors. From Fenty to SAVAGE X FENTY, she stays booked and busy. Last month, she announced she would release a reggae album.
Troye Sivan-
This past month, Troye released a new song, Bloom. It gives his fans a new look into what his next album will sound like. Personally, I think Troye set a high bar for himself when he released Blue Neighborhood. Hopefully this project will live up to my expectations.
Ariana Grande-
Since Ariana released her single, No Tears Left To Cry, I've realized that she consistently feeds her fans with new music. On Jimmy Fallon, she revealed that she would be releasing her album, Sweetener, in the summertime.
Azealia Banks-
The confident and controversial artist everyone does not know whether to love or hate, has risen from the dark to give us a look into her world. After releasing Anna Wintour, she has drawn attention from Naomi Campbell and others who wouldn't normally listen to her music.
Beyonce and Jay Z?
Rumors of Jay Z and Beyonce collaborating on new project keep popping up everywhere. Hopefully, while the celeb couple is on their On The Run tour, they will let us in on what they are doing.