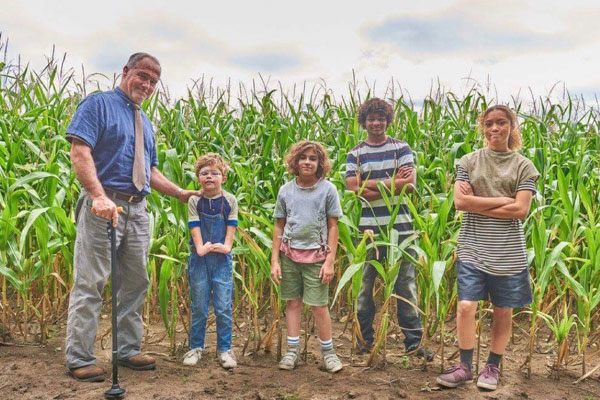 Fidgeting with his fingers, former student Edison Grant waits anxiously for the phone call to end. His mom presses the phone against her ear as his leg bounces up and down uncontrollably, prepared for bad news. A couple of his friends were already cast in TV shows and he longed for the opportunity too. A smile lit up his mom's face and he knew. He got the part. 
Grant auditioned in June for the lead role in the upcoming show, "Endlings." He flew to Ontario, British Columbia, with his mom in August to film and plans to live there for three months. Grant plans to return to Legacy second semester to finish his sophomore year.  
"
If you have a goal then go for it. The only thing holding you back is you.
— Edison Grant
"I felt accomplished and relieved when we got the call," Grant said. "I had been so nervous."
The audition date fell around Father's Day, and he didn't want to give up his time with family. With encouragement from his agent, Grant agreed to go through with the audition. He went to a self-tape coach last-minute and memorized his lines for his recording on the two-hour car ride from Mansfield. With the help of the coach, Grant completed his audition and emailed the finished recording to the production company.
"I wasn't really worried about [the audition]," Grant said. "After a while, I forgot about it."
Grant got a callback not long after he sent in his audition tape. From the callback, he advanced to the chemistry read. For the chemistry read, Grant flew to Canada to work with other cast members to see how well he fit in with them.
"Everyone was nice and welcoming [in Canada]," Grant said. "I was going up against one other kid from Australia so I thought my chances were pretty slim."
Grant's mom, Ms. Brenda Grant, didn't give him a chance to react before she told the director he would take the part when he called. Grant has been enrolled in acting classes for four years and had received "nos" from auditions such as "Titans" and "Avatar 2." Despite his rejections, he continued modeling and even acted in a short film that won an award at the North Hollywood Cinefest in early 2018.
"He has the best attitude ever," Ms. Grant said. "His ability to push away rejection and not let it define his self-worth was has been the greatest success he's gotten out of this experience."
The Grant family has sacrificed a lot of time and money to get their son to this point. Grant's parents flew to California for a premier, paid for lessons and drove him to auditions that could keep them out of town for days. Grant himself sacrificed many of his school activities, such as band, in order to put more time into his acting career. While working on this show, Ms. Grant hopes her son will walk away from the experience knowing that he gave his all.
"He is working with an exceptional group of people," Ms. Grant said. "Regardless of how [the show] is received, the experience alone is priceless."
The premiere of "Endlings" will release at the end of 2019 or early 2020. The Sinking Ship Entertainment original will stream on Hulu and air in nine countries. Filming for the show began  Aug. 22. Grant hopes this show will lead him to more opportunities in the future. He feels relieved that his split-second decision to take the audition got him to where he wanted to be in his blooming career.
"If you have a goal then go for it," Grant said. "The only thing holding you back is you."